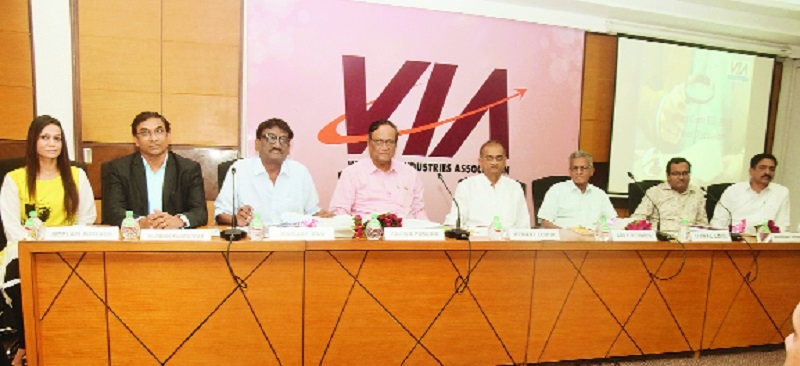 Business Bureau: THE Union Cabinet on July 26, 2019 approved the New Wage Code Bill, which would ensure a minimum wage across all sectors by integrating four labour related laws. To hear the same from eminent panelists, a panel discussion was organised by VIA-HRD Forum at VIA auditorium recently. Advocate R B Puranik, of Bombay High Court said, "There are no major changes in the New Wage Code Bill. The Bill may be good on workers front and may not be good on employer part because in this highly competitive business world, irrespective of the sector and size, every business is volatile, uncertain, complex and ambiguous.
The cost of inputs is increasing year-on year whereas the output including attitude, discipline, skill level, workers loyalty, customer loyalty is decreasing because of various reasons. This may affect employment, labour turnover on account of downsize, reduction in manpower, curtailment of manpower costs and other factors". Sanjay Deo, Management Consultant said, "Some of the intellectuals from industry are worrying that this will not promote the ease of doing business. People will close their businesses. Further, though the prime focus of the Bill is 'mandatory national minimum wage' and the States cannot pay wages below to the mandatory national minimum wage. There is no guarantee that Central Government will fix the national minimum wage significantly". He further said that the employers must settle the full and final payment within couple of days as per law.
Nishikant Bhore, VP-HR, Indorama said, "The New Wage Code universalises the provisions of the minimum wages and timely payment of wages to all employees irrespective of the sector and wage ceiling. Currently there are more than 2,000 rates of minimums wages prevailing in India. Introduction of Wage Code Bill will rationalise and reduce the number of minimum wages. Advocate S D Thakur of Bombay High Court said, "It is one of four codes envisaged by the Government which will subsume 44 labour laws with certain amendments. Currently, the provisions of both Minimum Wages Act and Payment of Wages Act apply on workers below a particular wage ceiling working in Scheduled employments only. Introduction of New Wage Code will bring more clarity on the definition of 'Wage' and reduce litigations under labour laws".
Assisstant Labour Commissioner Ujwal Loya said, "Employers need not maintain number of registers/ records/ forms but can maintain/ file the consolidated templates/records electronically. Because of introduction of web-based inspection, there will be accountability and transparency in enforcing the labour laws. The penalties on employers against non-compliance is also significantly high". "The Code envisages the States to notify payment of wages to the workers through digital mode. No doubt that this will improve the ease of doing business and attract investment for spurring growth and more particularly simplification, uniformity in various labour laws. It also mandates the minimum wages to be revised every 5-years," he further stated in the programme. Earlier, Hemant Lodha, Chairman of VIA-HRD Forum said, "The New Wage Code will enhance the relationship between employees and employers in general and overall earning status of employees.
This will also be helpful to industries to forecast their business plans in a smooth way". Floral welcome of panelists was performed by Nishikant Bhore,VP-HR, Indorama. Adv R B Puranik was welcomed by Hemant Lodha. Ujwal Loya, Asstt Labour Commissioner, Nagpur was welcomed by Pravin Tapadia, Past President of VIA. Adv S D Thakur and Sanjay Deo, Management Consultant were greeted by Suresh Pandilwar. Suresh Pandilwar, Co-Chairman of VIA-HRD Forum moderated the session. In the beginning, he appraised the current labour law scenario of India and how the New Wage Code Bill 2019 evolved. More than 90 participants attended the programme including HR & IR professionals, industrialists, entrepreneurs and students.
Prashant Mohota, former Vice-President of VIA, Amar Mohile from Zim Lab, Suchita from Bilt Graphic Paper Products, Arun Pandit from Pee Vee Textiles, Haldiram Foods, Sri Bhagirath Textiles, Ankur Pulps & Boards Ltd, R C Plasto, Sandeep Metalcrafts, KEC International; Diffusion Engineers and SMS Group were prominently present.