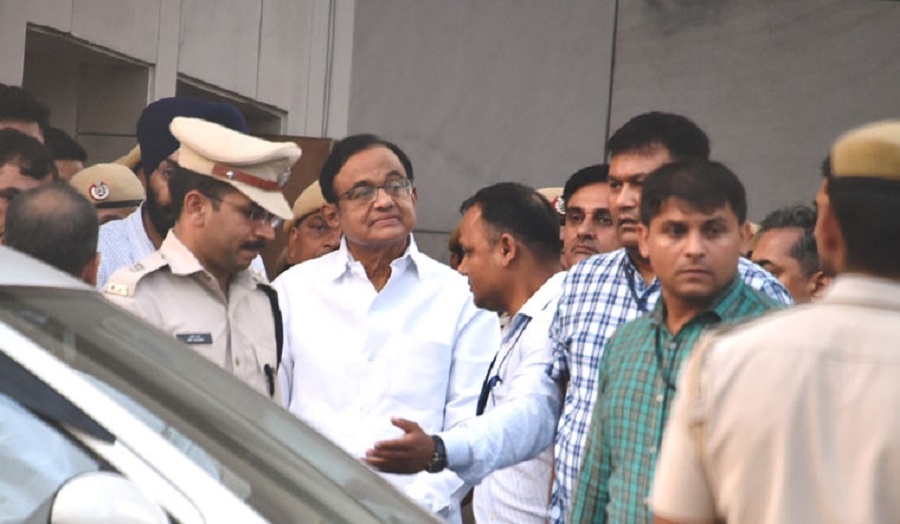 NEW DELHI: FDI clearances to other cos also under scanner THE CBI has expanded the probe against former Finance Minister P Chidambaram, bringing under its ambit foreign investment clearances given to companies other than INX media during his tenure, officials said on Thursday. The CBI suspects that Chidamabaram and his son Karti also received kickbacks from other companies to facilitate foreign investment clearances through the FIPB route which necessitates the former minister's custodial interrogation, they said. Both Chidambaram and Karti have strongly denied allegations of corruption levelled by the CBI.
The agency in its FIR related to INX media case has alleged that Karti Chidambaram helped the company by using his influence in the Ministry to get clearance for FDI investment worth Rs 305 crore and for it companies linked to him received payments under the garb of consultancy services. The FIR has not mentioned whether Chidambaram himself received any payments for granting FDI clearances. The CBI investigation is understood to have shown that Karti Chidambaram, through his shell firms, also allegedly received payments from 'many other companies' which were granted clearances by FIPB during Chidambaram's tenure, sources said.
Chidambaram was the Finance Minister in Congress-led UPA Government between May 22, 2004 and November 30, 2008 and in the second tenure from July 31, 2012 to May 26, 2014. The CBI is investigating payment trails of several companies abroad and in order to trace such investments, the CBI has issued Letter Rogatory, a judicial request to different countries seeking information about these suspicious transactions, they said.
The agency sources refused to give details of LRs and companies whose FDI clearances are under scanner as it may hamper future course of probe in the cases. After his arrest on Wednesday evening, the CBI started to question Chidambaram early Thursday morning. The CBI maintains that he did not cooperate with investigation and gave evasive replies on many crucial questions placed before him by the investigation officer of the case. The agency sources said positions taken by the former Finance Minister in his replies are in gross contradiction to other accused and witnesses.
After the Delhi High Court dismissed his anticipatory bail application, the CBI made an attempt to locate him at his residence 115-A Jor Bagh, New Delhi.
PC's plea to be heard by SC bench headed by Justice R Banumathi THE Supreme Court on Thursday sent Congress leader P Chidambaram's plea challenging the Delhi High Court verdict dismissing his anticipatory bail plea in INX Media case for hearing before a bench headed by Justice R Banumathi. Chidambaram, who was arrested by the CBI on Wednesday in the case, has approached the apex court against the High Court's August 20 verdict. The Congress leader was arrested after he failed to get protection from the Supreme Court which on Wednesday decided to hear on Friday his petition seeking stay of the High Court order. His plea would come up for hearing before a bench comprising Justices R Banumathi and A S Bopanna.
Asked us to help Karti's business: Indrani THE money laundering and corruption case against former Finance Minister P Chidambaram is largely centred on the testimony of Indrani Mukerjea in which she claims that the Congress leader asked her to help his son Karti's business in return for granting FIPB approval to her comapny, INX Media. She also claims in the 2017 written testimony to Enforcement Directorate that she subsequently met Karti Chidramabarm in a five-star hotel in New Delhi in 2008 when he asked her to remit USD 1 million into an overseas account owned by him or his associates. Both Chidambarams have vehemently denied the claim.
Karti said on Wednesday that he had never met Mukerjea in his life until he was taken by the police to meet with her in a Mumbai jail where she is lodged. Mukerjea and husband Peter Mukerjea were the promoters of INX Media, and are both currently in jail facing trial in the murder of her 24-year-old daughter Sheena Bora from a previous marriage. Both the murder case and the corruption part of the INX Media case are being investigated by CBI. In addition, the Enforcement Directorate is investigating the money laundering aspect. Indrani Mukerjea recorded her statement under the Prevention of Money Laundering Act (PMLA) and said she and her husband met Chidambaram at his office in Delhi's North Block in 2008. In his statement, Peter Mukerjea told ED investigators that he met the senior Chidambaram two or three times and on each occasion the meetings were courtesy calls to explain the transition of their media business.
However, he added that he met Chidamabram also "to ensure that there was no hold up or delay in their application and Chidambaram asked for his son's business interests to be kept in mind, if any opportunity arose and for making overseas payments". He said in his statement that he along with his wife 'met Karti along with another person at Hyatt Delhi'. "The issue at hand was to regularise the over-invested amount as FDI," Peter said.
Never met Peter or Indrani: Karti Karti Chidambaram on Thursday termed the arrest of his father P Chidambaram as a "political vendetta" and vehemently denied any association with either Peter Mukherjea or his wife Indrani Mukherjea, the promoters of INX Media. Karti arrived here on Thursday morning from Chennai, hours after his father was arrested on Wednesday night after high drama at his residence here in the INX Media case.
"This is not merely targeting of my father but the targeting of the Congress party. I will go to Jantar Mantar to protest," said Karti as he stepped out of the Delhi airport. Karti said there was no legal necessity for Chidambaram to appear before the CBI and denied that his father had been in hiding. He said despite several efforts by the CBI, the agency didn't have a case against them. "First and foremost we are being targeted. There is no legal requirement for my father to be available to anybody...My father is a vehement, vocal and articulate critic of this Government. Case has no legal basis, charges trumped-up," said Karti, who said that he knew the processes agencies use and never has the CBI given two hours notice to anyone. "I have been summoned 20 times and raided four times. Nobody has ever been raided as many times but they still don't have a case....Each time I (was summoned) was given a week's notice," he said. When asked about his association with Peter and Indrani Mukherjea, Karti Chidambaram said he neither knew them nor has he met them.
"I have never met Peter Mukherjea. Have never met Indrani Mukherjea, only time I met her was during the CBI interrogation in Byculla jail. Never met anyone in FIPB (Foreign Investment Promotion Board), don't know the process of FIPB", he said. The firm once promoted by Peter and Indrani Mukerjea, both in jail for murdering the latter's daughter Sheena Bora, had allegedly made payments to a firm linked to the former Finance Minister's son Karti Chidambaram, the CBI has said in the FIR. Chidambaram has strongly denied the allegations, saying the payments were for consultancy and his son was in no way associated with that company.
This is how PC defended himself in CBI court
NEW DELHI: IN AN unusual move, former Finance Minister P Chidambaram himself spoke in the CBI court and defended himself in the INX Media case. A seasoned lawyer himself, Chidambaram said no question by the investigating agency was left unanswered by him. He stated that no question was posed to him on the supposed illegal payment being made to him. During the court hearing, the prosecution said the investigation has revealed that a payment of $5 million was made by Indrani Mukherjea. The former Finance Minister informed the court that the only question CBI asked him was whether he has an overseas bank account, to which he answered in the negative.
However, Chidambaram answered in the affirmative to the CBI question about the existence of an overseas bank account of his son. Chidambaram argued briefly, despite having a battery of lawyers such as Abhishek Singhvi and Kapil Sibal. Prosecution lawyer and he Solicitor General of India Tushar Mehta objected to the former FM arguing for himself. Mehta said Chidambaram should brief his counsel and speak through them.
Taking a dig at Singhvi and Sibal, Mehta said Chidambaram should argue without any counsel if he doesn't feel them fit to do so. Chidambaram is accused of granting clearance under the Foreign Investment Promotion Board (FIPB) for INX Media when he was the Finance Minister during UPA, in exchange for alleged bribes paid to his son Karti Chidambaram. He was arrested on Wednesday night by the CBI. The court on Thursday gave four-day custody to CBI to question him in the case.