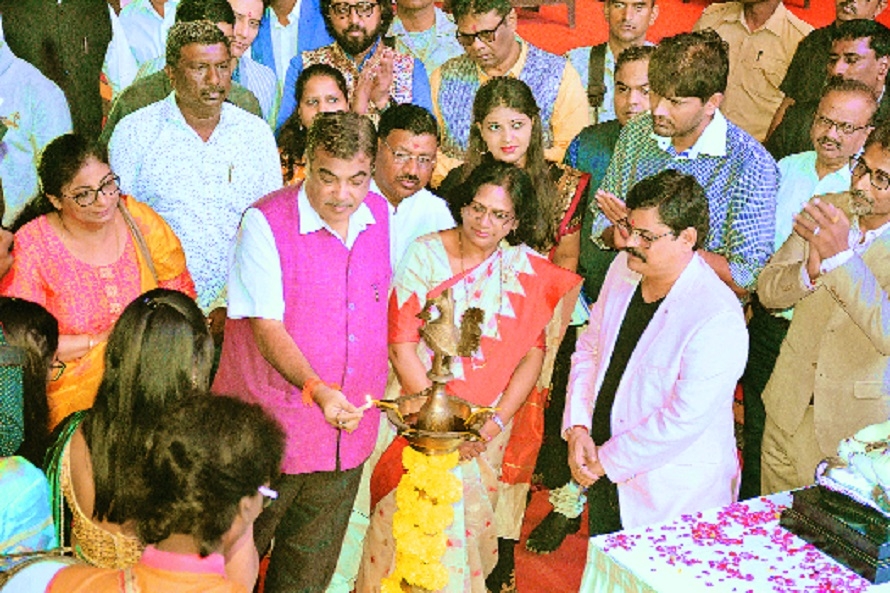 Nitin Gadkari, Union Minister for Road Transport, Highways and MSME inaugurating Nagpur Startup Fest on Sunday. Also seen are City Mayor Nanda Jichkar, Tanaji Wanve and others.
Business Bureau : "I am happy to know that 10 innovators of last year have become successful entrepreneurs," said Nitin Gadkari, Union Minister for Road Transport, Highways and MSME, on Saturday while inaugurating Nagpur Startup Fest organised under 'Innovation Parva 2019' at Mankapur Indoor Stadium organised by Nagpur Municipal Corporation and Mayor Innovation Council. Present on the occasion were Nanda Jichkar, City Mayor, Tanaji Wanwe, Leader of Opposition in NMC, Deepraj Pardikar, Mohit Gambhir, Innovation Director, MHRD, GoI, Chet Jain, serial entrepreneur from Silicon Valley and Singapore, Sandeep Kulkarni, Marathi film maker, Dipraj Pardikar, Deputy Mayor, Bharat Ganeshpure, Marathi actor, Sandeep Nath, Marathi Composer, Abhijeet Banger, Commissioner of NMC, Mukund Pathak, Gargi Chopra, Corporator and others. Gadkari continued said, "Innovation, entrepreneurship and conversation of knowledge into wealth is our future. Innovations will eradicate poverty from the region." He highlighted opportunities in the new and renewable energy sectors, flex engine, ethanol pump and bio-fuel industry. "We will be starting bio-fuel CNG plant in just 3 months wherein 400 buses, 100 trucks will run. This will help in saving around Rs 60 crore. Bio-CNG will be at Rs 55 per litre and diesel at Rs 85 per litre. People will save their Rs 30 on one litre," he noted. He said, big change is possible by just small research. Gadkari also informed that dry grass (tanas) and naiper grass were also useful for producing power and bio-CNG due to its high caloric value.
He claimed that 5 districts of Vidarbha will be diesel free in five years offering employment to 50,000 youths. He said, non edible oil seeds like Ratan Jyoti, Moha, Karanjyot, Sal, Toli etc., are also useful for production of aviation fuel. He announced that Mother's Dairy would launch 'Santra Barfi' from coming Ganesh Chaturthi festival thereby increasing the demand of milk and oranges from the region. Giving example of cricketers Sachin Tendulkar, Sunil Gavaskar and comparing them with Clove Lloyd, Vivan Richard's, Gadkari said, "The physique of our players was just normal like us, while the physique of West Indies players was very big and mighty, but still our players made a big name in the world of cricket. It was possible just by developing talent and skill.
Strong will power is required to achieve success." The contribution of MSME will increase from 29 per cent to 50 per cent. "There are 6 crore registered MSMEs and 2 crore unregistered MIME giving employment to 11.50 crore people. In five years, we have targeted to give employment to 5 crore more people," he claimed. Mayor Nanda Jichkar informed that 1,000 ideas were registered during the programme. Such programmes are being arranged to increase the quality of the innovations by learning, thinking, creativity process discussed during the event. The event received overwhelming response from the college students.