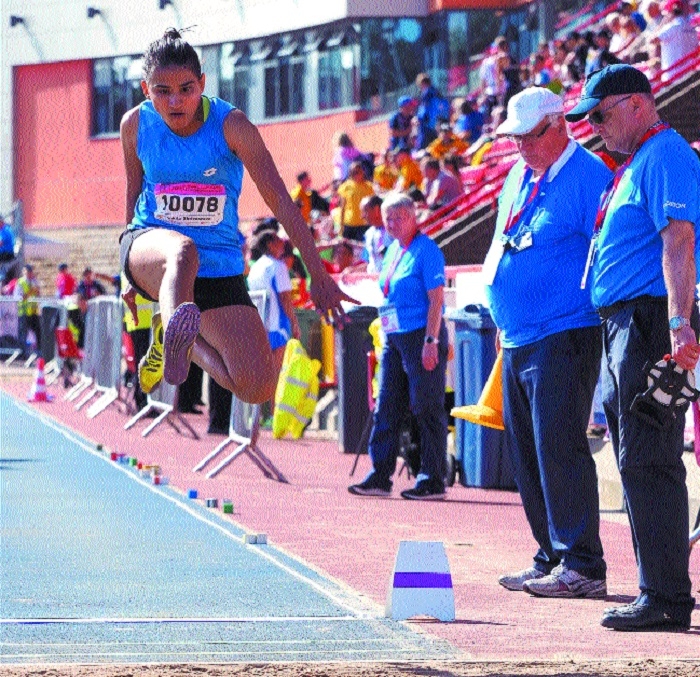 Ankita Srivastava participating in long jump at World Transplant Games.
Staff Reporter : ANKITA Srivastava made the country proud by winning three medals in World Transplant Games held in New Castle, United Kingdom. Ankita represented the country in athletics at World Transplant Games with 1,500 contestants from 53 countries. World Transplant Games is a celebration of the second chance of life, demonstrating success of transplant surgery and promoting the need to raise public awareness of organ and tissue donation. Manager of Indian team Reena Raju from Bengaluru underwent heart transplant twice. Ankita won silver medal with a timing of 17.21 in 100m race.
She won gold medal with a throw of 31.7 mts in ball throw followed by another gold medal in long jump of 3.61 meters. Participants from 53 countries attended the gala opening ceremony of Games with their country's flags. The event witnessed competitions of football, archery, volleyball, cycling, badminton, squash, tennis, bowling, golf, swimming, basketball, dart and athletics. Ankita's journey was not easy after donating an organ. For this, Ankita first took fitness training under the guidance of fitness coach Satish Kumar at Bhojpur Club, Bhopal, followed by Madhya Pradesh State Sports Academy's Athletics at the Sports Authority of India (SAI) Bhopal organised camp.
From coach, fitness expert and International Technical Officer Amit Gautam, she learnt the nuances of sprint and long jump. Notably, Amit Gautam has also trained State's Olympic athlete Ankit Sharma. Ankita Srivastava Samprati, a former student of St Joseph's Convent School Idgah Hills, Bhopal, is Vice-President at Ankita Adarsh Private Limited and an executive producer of 6.5 million USD projects with 14 Indian and Nepalese pre schools. At the age of 19, her book 'I Hope We Last' was published.