By Vijay Phanshikar :
Death may have taken them away -- Mr. Manohar Parrikar, Mrs. Sushma Swaraj, and Mr. Arun Jaitley in a rather quick succession -- but not before they made their signal, unique contribution to the national cause. All of them were young. All of them knew what their lives were meant for. And all of them had the necessary qualities to finish their respective, mandated tasks before departing at ages and stages when everybody felt they were needed the most. But gone are all those three wonderful personalities -- leaving behind them a legacy of certain excellence, certain commitment to the nationalistic cause, certain loyalty to the mission they were expected to complete -- and finally certain circle of influence of their achievement that became possible only because the Divine had willed so. All the three of them were acutely aware of the Divine mandate they were born with.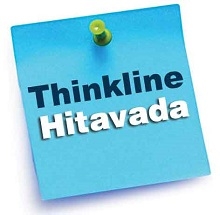 That was why Mr. Manohar Parrikar said, when he was yet to become Chief Minister of Goa, that he was fully conscious that he had to hurry up in life since many tasks waited for his engagement. "But why are you in such a hurry?", someone in the group asked him. In response, Mr. Parrikar only smiled, and kept quiet for some time, his eyes dipped in a contemplative gesture. Then after a minute or two, when he realised that the questioner was still eager to hear the reason, the extremely polished Mr. Parrikar raised his head, looked straight at the person, and said, in effect, 'I suspect, I may not be given much time before I finished my tasks.' What a sense of purpose! But then, this was common to Mrs. Sushma Swaraj and Mr. Arun Jaitley as well. Sense of purpose. Sense of timing. Sense of total commitment. Sense of unquestioning discipline. Sense of organisational obligation.
Sense of national goals. Sense of uncompromising nationalism ...! These qualities mingled with personal qualities that all the three brought to their assignments. Whatever they did in whichever positions they held in howsoever difficult times, Mr. Parrikar, Mrs. Swaraj, and Mr. Jaitley excelled because of the fine blend of personal and professional qualities they mastered. And that is the reason we will miss them, the whole nation -- beyond political divides, beyond ideological barriers, beyond personal differences! Let us look back in time when all the three were growing in stature in their political careers as well as personal achievements.
Let us understand that whatever they did, they were totally engaged unreservedly in the activity, having taken almost a final plunge, never to look back, never to turn back. Factually, the start of their public careers was in the Opposition camp. Prospects -- personally speaking -- seemed bleak, given the dominance of certain political forces on the other side of the dividing line. But then, these three and countless others were not in the profession of politics as a career; they were there to profess certain philosophy, certain cause that was far beyond the mundane.
They had a set of unalterable beliefs, a set of uncompromisable principles, a set of timeless values stemming from the ancient and provenly sustained Indian ethos and culture. For them, politics was a tool of service, and not a means to amass personal treasures. True, politics is an activity aimed at gaining, attaining political power. But when it is inspired by ideals that go beyond personal agenda, it turns into a mission for the upliftment of the nation to another level, to a higher plane. In the lives of Mr. Manohar Parrikar, Mrs. Sushma Swaraj, and Mr. Arun Jaitley, this was very pronouncedly evident. But then, they belonged to a very strict patriotic tradition. On personal counts, all of them had done very well for themselves. But then, beyond personal agendas there is a zone of public cause.
These three departed leaders were committed to that higher purpose, that finer cause -- in sheer public interest. That was why the whole of India was extremely happy when Mr. Manohar Parrikar got chosen as the Chief Minister of Goa at a critical cross-roads in time. The State had not been managed well until then. But this man, full of zest of a rare variety, brought to the table a new dynamism, a new forward vision, and an absolutely incorruptible administrative culture in which political machinations could not play any dirty role. That was also why Mr. Parrikar got picked up to serve the nation as Defence Minister, an assignment in which he did the fullest possible justice to the issues of national security and defence. He introduced a culture of frank patriotism that brooked no nonsense. Of course, his health had begun giving trouble. Of course, he needed some respite.
And of course, back in Goa, his presence was needed. So Mr. Manohar Parrikar went back to his home State to stabilise matters. Even though he was suffering personally, he stabilised the State very well. The similar was the story of Mrs. Sushma Swaraj as well. She did uncomplainingly whatever the Bharatiya Janata Party asked her to do -- contest impossible elections, confront impossible rivals, complete impossible-sounding tasks, and comprehend ideological and philosophical issues and present the party's and the nation's positions to the world.
As a Member of Parliament, as the Chief Minister of Delhi, as the Leader of Opposition in the Lok Sabha, as the Minister of External Affairs, Mrs. Sushma Swaraj excelled because of the basket of personal and professional qualities she brought to the given tasks. But this woman was not an ordinary one. Her speeches explain her spiritually-oriented personality. She understood the message of Bhagvad Geeta and tried in her own way to imbibe it in herself. That was the reason she could tell Mr. Narendra Modi that she would wish to be kept out. For the Prime Minister, it must have been a difficult moment. But then, in just three months, Mrs. Sushma Swaraj was gone -- forever -- giving us the full idea of the premonition she had got that her time might be up soon. This is also the story of Mr.
Arun Jaitley. Until the last few days when he could no longer do anything about it, Mr. Jaitley was active, stretching himself beyond his own physical limits. Even when he was in the Opposition Mr. Jaitley became an actual face of not just the BJP but of the House of Rajya Sabha. In the Finance Ministry, he left an indelible mark behind, by raising the levels of India's economic achievements. Later, on sheer will-power, he sustained himself in the service of the country. Then ailment claimed his energies, and he opted out. Even then, his wise counsel was always available to the country, which was why Mr. Narendra Modi lamented tearily that he had lost a "valued friend". All the three were iconic -- with metaphoric value. The three stories are so unique in their own ways, and yet have so much in common. From a common stock! From a common fold! From a common mould! Very rare! -- to say the least!