Estimated 10.87 lakh suffer from Hypertension, 3.04 lakh from Diabetes in Nagpur Division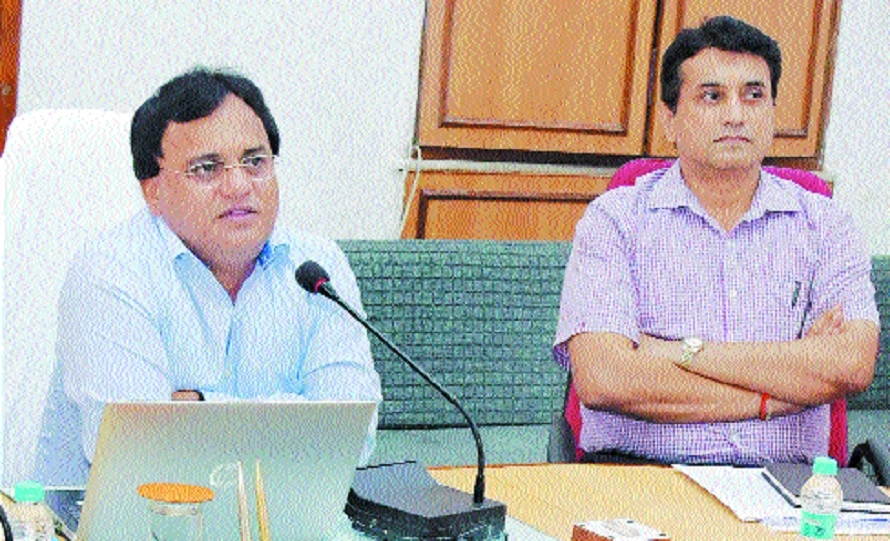 (Left) Dr Sanjeev Kumar, Divisional Commissioner, addressing a press conference on Tuesday, as Sanjay Yadav, CEO of ZP, looks on.
Staff Reporter :
Government to start massive screening drive as part of 'revolutionary' health initiative for patient-centric care for Hypertension and Diabetes in Nagpur Division
Hypertension and Diabetes are becoming causes of concern for health sector policy-makers. As far as Maharashtra is concerned, an estimate puts the number of people suffering from Hypertension in the range of 22.7 per cent to 26.4 per cent of total population. In Nagpur Division, in keeping with the national average, an estimated 10.87 lakh persons are suffering from Hypertension (high blood pressure) and 3.04 lakh from Diabetes. "Considering the situation, we will be conducting screening of 43,43,000 adult population for Hypertension and Diabetes in a door-to-door manner. During the drive, screening for Hypertension and Diabetes will be done by Auxiliary Nurse Midwife or ANM and ASHA workers, trained physicians will offer diagnosis and treatment of suspected patients,
Hind Labs Ltd will conduct free Kidney function test and blood glucose test, and medicines will be given for free. We will keep watch on the parameters of screening drive beneficiaries. The entire programme will be conducted in Nagpur Division till March 2020," said Dr Sanjeev Kumar, Divisional Commissioner. Addressing a press conference at Divisional Commissionerate Hall here on Tuesday evening, Dr Sanjeev Kumar said that high blood pressure or Hypertension killed nearly as many people as all the infectious diseases combined killed in the world. "However, not many are aware that they are suffering from Hypertension or Diabetes.
Of a total 1.4 billion people in the world estimated to have been suffering from Hypertension, only 650 million are aware of their condition. Of them, only 510 million are treated, and only 190 million are successful in controlling their condition," he added, while making a power-point presentation. As far as India is concerned, of a total 200 million people estimated to be suffering from Hypertension, only 50 million are treated, Dr Sanjeev Kumar told mediapersons. Maharashtra has between 22.7 per cent and 26.4 per cent of population suffering from Hypertension.
"It was found that among the adults above 30 years of age, treatment for Hypertension and Diabetes was very low with most patients lost to follow-up, due to non-availability of uninterrupted protocol drugs," he said. Quoting scientific studies, he said that prevalence of Hypertension and Diabetes among adults oover 30 years of age was 25 per cent and 7 per cent respectively. In Nagpur Division, which has six districts, an estimated 10,87,285 patients of Hypertension and 3,04,440 of Diabetes need diagnosis and treatment, said Divisional Commissioner. India Hypertension Control Initiative (IHCI) supported by World Health Organisation (WHO), Indian Council of Medical Research, and Resolve to Save Lives Foundation, Central and State Governments, is underway in Bhandara and Wardha districts since November 2018. Another initiative -- National Programme for Prevention and Control of Cancers, Diabetes, Cardiovascular Diseases and Stroke, is also in progress since April 2018 in both the districts.
"Building on the success of both these programmes, we have decided to take the services to people's doorsteps," he added. According to Dr Sanjeev Kumar, up to July 2019, total 52,018 Hypertension and 4,064 Diabetes patients have been put under regular treatment with patient-centric care. The initiative has been scaled to 254 primary healthcare centres in rural areas in Nagpur Division. Plans are underway to scale up the initiative to 29 urban primary healthcare centres in Nagpur Municipal Corporation area, and additional 38 urban primary healthcare centres in Nagpur Division. For the purpose of screening drive and follow-up action, healthcare sub-centres will be transformed into Health and Wellness Centres, Each such centre will have a BAMS qualified doctor.
Hypertension and Diabetes values are checked in accordance with the standards of the United States. Asked about lack of standards for India or Asian region, Dr Sanjeev Kumar replied, "It is a long-standing debate. But, instead of overplaying genetics and other aspects, we are focussing on available standards." To another question regarding serious ill-effects on organs due to regular consumption of medicines for Hypertension or Diabetes, Dr Sanjeev Kumar said, "Hypertension can not be controlled by non-medical measures.
During our pilot study in Wardha, we gave medicines along with advice relating to diet and lifestyle modification. Also, some people refused to take medicines. We did not insist upon taking medicines. The purpose of our screening drive is to get a clearer picture of how many people in Nagpur Division are suffering from Hypertension or Diabetes." Sanjay Yadav, Chief Executive Officer of Zilla Parishad; Dr Vishwajit Bharadwaj of IHCI; and Dr Krushna Sirmanwar of Tata Trusts were present prominently during the press conference.