AFTER two days of moderate showers, the MeT Department on Friday forecast "intense heavy rainfall" in Mumbai on late Saturday and Sunday. K S Hosalikar, Deputy Director General of Meteorology, India MeT Department, Mumbai, tweeted, "With the development of low pressure area over Bay, this Saturday night and Sunday, Mumbai is very likely to get intense heavy rainfalls."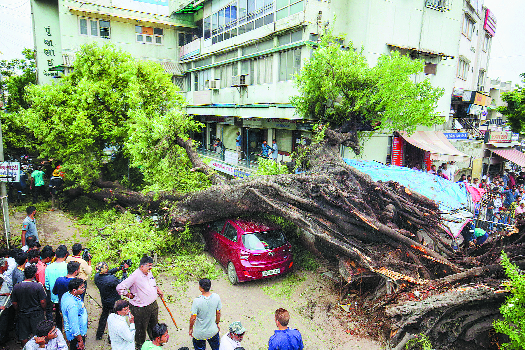 "Warnings are issued (for areas) including West coast," he said. The IMD's Santacruz weather station in suburbs recorded 43.4 mm rainfall in the last 24 hours ended 8.30 am on Friday, according to its website. During the same period, the department's weather station at Colaba in South Mumbai recorded 21.2 mm rainfall. 15 Punjab Regiment soldiers rescued 70 civilians in flooding: SOLDIERS of the Indian Army's 15 Punjab Regiment rescued as many as 70 civilians during flooding in adjoining Thane district last week, a senior official said on Friday.
The local civil administration had requisitioned the Army for rescuing civilians from the flooded petrol pump at Kamba in Kalyan, the official said.
"These people had been stranded for about 8-10 hours when the army was alerted. The infantry battalion at Colaba in south Mumbai was tasked with the rescue efforts," the official said. The Army unit launched two rescue and relief columns of three officers, two JCOs and 65 other ranks and managed to reach the site quickly and contact the stranded persons.
"A number of boat missions were launched. In all, about 70 civilians were rescued and food and medicine were distributed to around 250 civilians," the official said. The unit also assisted other agencies to coordinate the flood relief operations, he said, adding local citizens of Kalyan thanked the battalion for the flood relief efforts. Odisha, Raj lashed by heavy rainfall as Vadodara recovers from flooding: RAINWATER flooded parts of Odisha and Rajasthan after a heavy downpour in the two states, while Gujarat's rain-hit Vadodara limped back to normalcy as the swollen Vishwamitri river's ferocity started waning on Friday.
Over 5,700 people were moved out of the central Gujarat city and neighbouring areas due to flooding from the river which often dries up in summer, leaving only a stream of water behind.
The State officials said six people have died in rain-related incidents in the city, the third-largest in the State after Ahmedabad and Surat. Many areas are still submerged after a burst of nearly 500 mm of rainfall in 24 hours. Floodwaters brought with them seven mid-sized crocodiles to residential areas of Vadodara but the reptiles were captured by forest department officials over two days. Gujarat Chief Minister Vijay Rupani said in a tweet that Prime Minister Narendra Modi discussed the flood situation in the State with him on telephone and assured Central help.
In Odisha, rainwater submerged low-lying areas and snapped road connectivity in Malkangiri district. Because of a flood-like situation, the district administration has ordered schools to remain shut for two days. Malkangiri has received an average of 115.86 mm rains in past 24 hours, an official said in Bhubaneswar.
Apart from Malkangiri, districts like Nabarangpur, Rayagada and Koraput were also lashed by heavy rainfall. Ten districts of Rajasthan have recorded "excess" rainfall this monsoon season, 14 districts have witnessed "normal" and seven have "deficit" rainfall, the State Water Resources Department said on Friday. The weather department predicted heavy rainfall in parts of east Rajasthan.
In Himachal Pradesh, the Government asked all district-level administrators to be on high alert for heavy rainfall in parts of the state till August 8. It also issued a the least dangerous "yellow" warning for heavy downpour for Sunday and Monday.
Flood situation remains grim in Bihar, no fresh casualties: THE flood situation remained grim in Bihar on Friday, where nearly nine million people in 13 districts have been affected by the deluge. The death toll, however, remained unchanged at 130 for the third consecutive day, the State Disaster Management Department said.
Water levels have started receding at many places because of a let up in rainfall, which led the East Central Railway headquartered at Hajipur to allow restoration of traffic on the Darbhanga-Samastipur section, a week after it was suspended.
Sitamarhi and Madhubani remain the worst-affected districts, accounting for 37 and 30 casualties, respectively, and together home to about 31.5 lakh people impacted by the floods out of the total number of 88.46 lakh, the Department said.