Business Bureau
The Nagpur General Merchants Association recently organised a meeting to elect a new body for the term 2019-2021.
In the meeting, the elections were conducted in fair manner and the new office bearers of the association were announced. Nilesh Maundekar was elected as the new President. Apart from this, Pankaj Padiya was elected as the Vice President, Sanjay Tabutwale, Secretary, Lakshman Mendare, Joint Secretary and Kanhiyalal Motwani, Treasurer.
The newly elected Working Committee members were Prashant Makhija, Sharik Qureshi, Dhiraj Makhija, Lakshmikant Nimje, Manish Sharma, Suryakant Chandekar, Arjundas Khandwani, Dipesh Parekh, Arun Wakodikar and Ravindra Mahajan.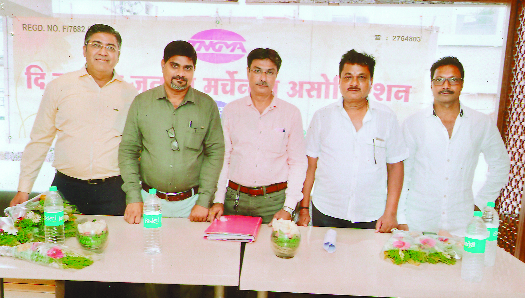 Members of Nagpur General Merchants Association at the meeting.
The election was conducted under the supervision of election officer Raju Makhija, former President of the association. Thereafter, the election officer revealed the names of the winners. The newly elected President Nilesh Maundekar praised Raju Makhija for conducting the election in a transparent way.
Maundekar welcomed the newly elected team of the association. He appealed to them to assist him in accomplishing the objectives of the association. Furthermore, he said all the major issues of traders will be taken up with the proper authority and resolved.