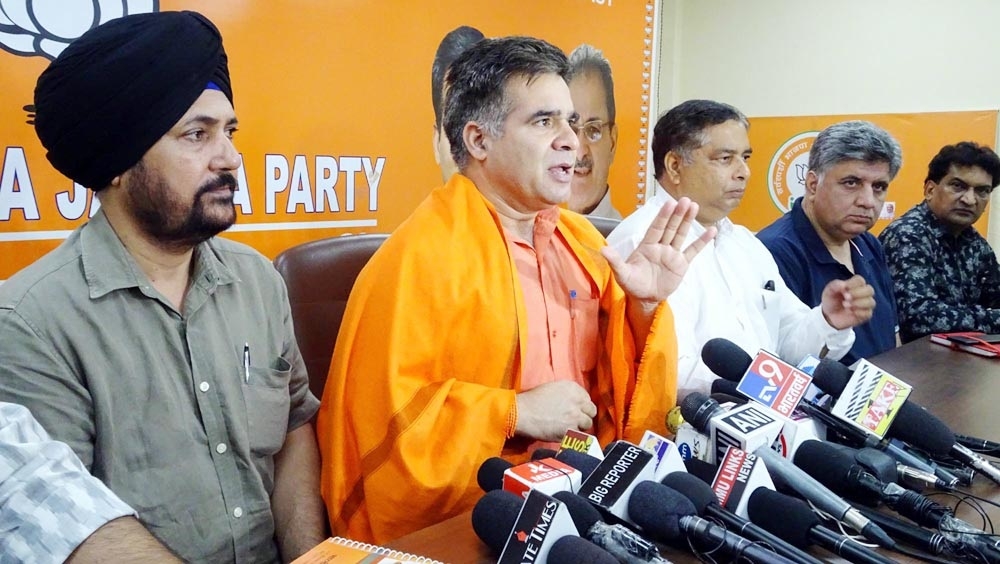 JAMMU:
THE BJP's Jammu and Kashmir unit on Saturday accused leaders of the NC, PDP and the Congress of deliberately trying to trigger panic among the people as they themselves were frightened, and asserted that the common man has no fear. The party's state unit president, Ravinder Raina, said every common citizen of the country is safe under the leadership of Prime Minister Narendra Modi, who is applying balm on the wounds of the people of Jammu and Kashmir.
"Some politicians in the valley are knocking the door of the Governor (Satya Pal Malik) in the dead of night because they are frightened...The governor had also made it clear that those who are corrupt cannot save themselves. Those who have ill intentions, involved in betrayal and looted the money of poor people and filled their coffers are a worried lot," Raina told reporters after chairing a core group meeting of the BJP here.
A delegation of PDP president Mehbooba Mufti, J&K Peoples Movement chief Shah Faesal and Peoples Conference leaders Sajjad Lone and Imran Reza Ansari met the Governor on Friday night as speculations grew in Kashmir Valley about some possible major decisions regarding the State's special status. The BJP leader, however, asserted that Article 370 and Article 35A of the Constitution, that give special status to the State, were the main cause for separatism and terrorism. "These provisos are also discriminatory against women and under the garb of these articles, blood of ordinary citizens was suck, Jammu and Kashmir Bank and central funds were looted by a few dynasties," he claimed.
'PM should make statement in Parlt on J&K situation'
NEW DELHI:
CONDEMNING the Government's decision to curtail the Amarnath Yatra, the Congress on Saturday said the entire country is worried and Prime Minister Narendra Modi should make a statement in Parliament on the current situation in Jammu and Kashmir. Addressing a press conference at the Congress office here, senior party leader Ghulam Nabi Azad said the Amarnath Yatra has never been curtailed, even when the pilgrimage was targeted by terrorists.