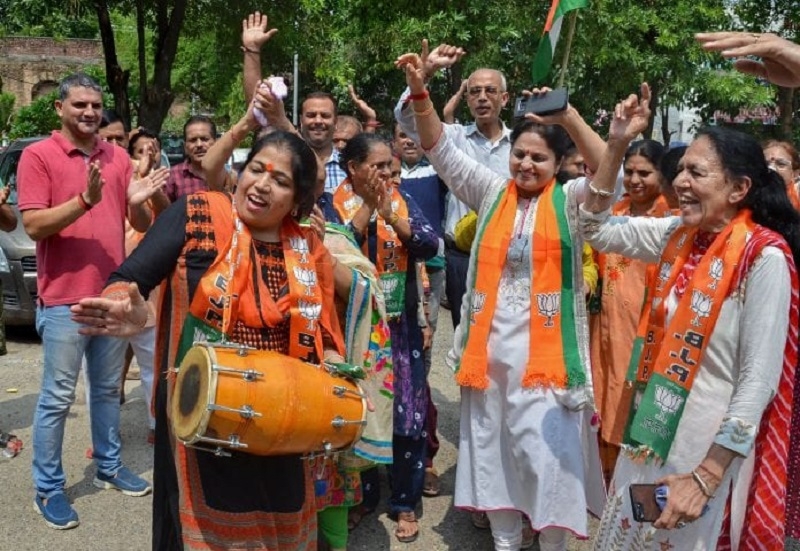 NEW DELHI/JAMMU/KOLKATA:
"I AM overwhelmed, emotional, jubilant," said an entrepreneur in Jammu, echoing views of large sections across the country who hailed the Modi Government's decision on Monday to revoke Article 370 that gave Special Status to Jammu and Kashmir as "bold" and "historic". But there were also voices of caution and apprehension especially from the Kashmir Valley and the North-east, where several States enjoy special provisions. Amid speculation about some big decision on J&K after the Central Government deployed additional troops in the State and directed pilgrims and tourists to leave, many were glued to news channels on Monday morning when Home Minister Amit Shah stood up to speak in Rajya Sabha.
Within minutes of his announcement, celebrations erupted as people came out on streets, danced to the sounds of drumbeats, burst crackers and distributed sweets while raising slogans of 'Bharat Mata ki Jai'. It was an emotional moment for many Kashmiri Pandits, who were forced to flee the Valley due to militancy, as they hoped the decision would pave the way for return to their homeland with honour and dignity. "It should have been done long back. It is favourable for the nation. We are one. We should be one. We should not divide ourselves," Pina Misri, president of Kashmir Sabha, told PTI in Kolkata.
Global Kashmiri Pandit Diaspora (GKPD), a body representing the community across the world, said the decision cements territorial, political and cultural unity of the Indian Union. Despite precautionary restrictions imposed by the administration in Jammu, residents of many areas like Bohri, Muthi, New Plot and Trikuta Nagar came out of their homes, albeit in smaller groups, to express their happiness and expressed hope that the decision will deliver justice to the region, which has always complained of being discriminated against by the political setup.
Ankush Veshin, who runs a diagnostic centre in Talab Tilloo area said, "Hearing the announcement (by Shah in Rajya Sabha) gave me goosebumps... I am overwhelmed, emotional, jubilant." Sushma Bhat Tiwari, who is from Kulgam district of Kashmir Valley and works as a senior HR professional with a multinational company, said women like her who married non-residents will finally get their rights. "I married a non-Kashmir several years ago and lost the right of being citizen of Jammu and Kashmir. My children were also denied right to property and citizenship due to this law. But we are happy that this has been done away with and justice done to women like me," she said.
But many in Kashmir expressed apprehensions about a new cycle of violence in the Valley and claimed that it could lead to change in its Muslim-majority identity. "We are shocked by the decision and it has left us disappointed because our sentiments were attached with this Article. Its scrapping means that the state will lose its Muslim-majority character," said 50-year-old Farooq Ahmad Shah, a resident of Srinagar who was visiting Jammu.