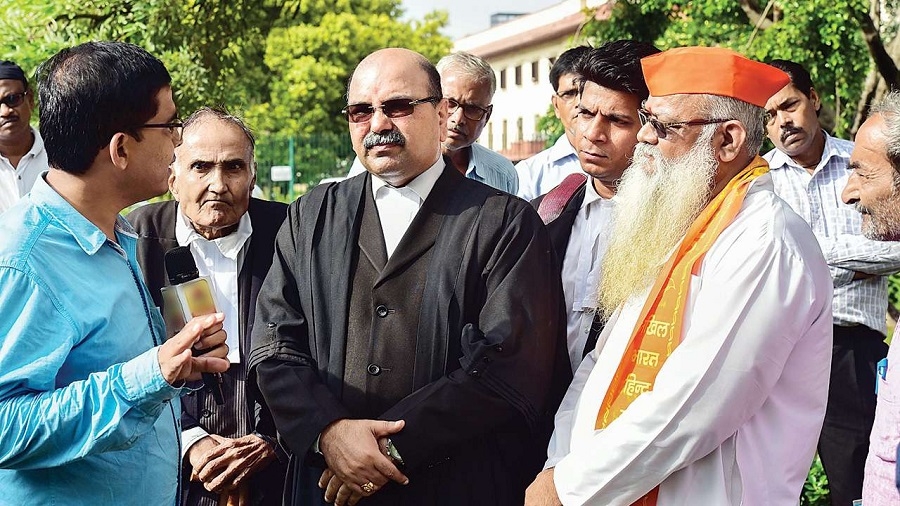 NEW DELHI:
A HINDU body on Tuesday strongly pitched in the Supreme Court for control and management of the entire disputed 2.77 acre land in the politically and religiously sensitive case of Ram Janmabhoomi-Babri Masjid title dispute at Ayodhya. Nirmohi Aakhara, one of the leading parties in the case, asserted its claim over the disputed site where the medieval structure was demolished on December 6, 1992, and said that Muslims have not been allowed to enter the place since 1934.
The Hindu body said it was claiming ownership and possession of the "main temple" as also to be the manager of the birth place of Lord Ram. The top court, which commenced the day-to-day hearing on Tuesday following the failure of the mediation proceedings to resolve the dispute amicably, was told by the Hindu body that since time immemorial "Janma Asthan now commonly known as Janam Bhumi, the birth place of Lord Ram Chandra was belonging to and in possession of the Akhara".
Nirmohi Akahara submitted before a five-judge Constitution bench headed by Chief Justice Ranjan Gogoi that it was also acting as "its (property) Manager" through its 'Mahant' and 'Sarbrahkar' who had been managing and receiving offerings made there at in the form of money. The bench, also comprising Justices S A Bobde, D Y Chandrachud, Ashok Bhushan and S A Nazeer, was told by senior advocate Sushil Jain appearing for the Akahara, that under the Muslim law no one can construct a mosque over the land which belonged to others.
Referring to the records, he said, "No Mohammedan could or ever did enter the temple building. It was specifically stated that no Mohammedan has even attempted to enter it at least since 1934" and hence the claim of Akharara over the land was legal and should be honoured. The senior advocate submitted that from 1934 to December 16, 1949, the site was in the exclusive possession of the Hindu body and the Muslims were not offering their daily 'five-time prayers'; they were only offering Friday 'namaz' that too under police protection.