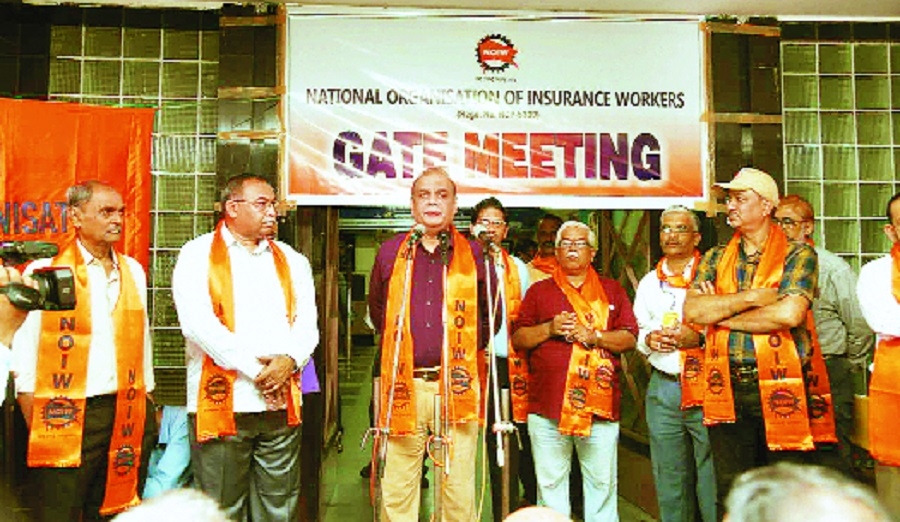 Business Bureau:
The two days central committee meeting of National Organisation of Insurance Workers (NOIW) was held August 5 to August 6 in city. The meeting took stock of the situation at national level and industry level. The meeting expressed happiness over more new members joining NOIW. The house passed resolutions demanding early settlement of wage revision of LIC employees, early recruitment of class III employees, absorption of CGIT workmen. The meeting also decided to celebrate the centenary birth anniversary of late Dattopant Thengdi.
A guide and philosopher for T U movement commencing from November 10, 2019 to November 10, 2020 and decided to conduct various programmes at organisational levels. The meeting expressed happiness over the decision taken by Government of India to revoke Article 370 and 35A. The house unanimously passed the resolution supporting the move of the Government in protecting the national interest. The meeting concluded with the mammoth gate meeting held before the Divisional Office of LIC, Nagpur on August 6, 2019.
While addressing M A Bapat, General Secretary of NOIW expressed the journey of NOIW during the past 50 years and spoke about the challenges in the days to come. He criticised the attitude of LIC management in taking unilateral decisions and demanded consultative mechanism with the trade unions. He made an appeal to strengthen NOIW to solve the problems of LIC employees effectively. Atul Deshpande, President of NOIW narrated the success stories of NOIW and its role in solving the major issue of one more option for pension. He said, "Recruitment is the need of the hour as many of the branches of LIC are facing acute shortage of staff and existing employees are overburdened."
In the issue of CGIT temporary workmen case, NOIW played a vital role in pleading the case before the CGIT and the Supreme Court, he said. He further demanded that LIC management instead of absorbing selected workmen should absorb all the temporary workmen who have worked during the specified duration as all the cases are genuine. He placed on record his sincere thanks to patron of NOIW Prahlad Patel, Union Minister of State for Culture and Tourism for extending all his help in resolving the issues of LIC employees through intervene with the concerned ministry. He further opined that the move of FDI/disinvestment of LIC is not in the interest of the industry and will be opposed if the government comes out with such proposal and further said to protect the nationalised character of LIC. The meeting was attended by large contingent of delegates. Ravindra Sahastrabuddhe compered the programme of the gate meeting. Present were office-bearers Hemesh Patel, T. Surikumar, Manoj Gandhi, Dnyanesh Paranjape, Rakesh Bhugaonkar, Prasanna Waghmare, Uttam Bokde.