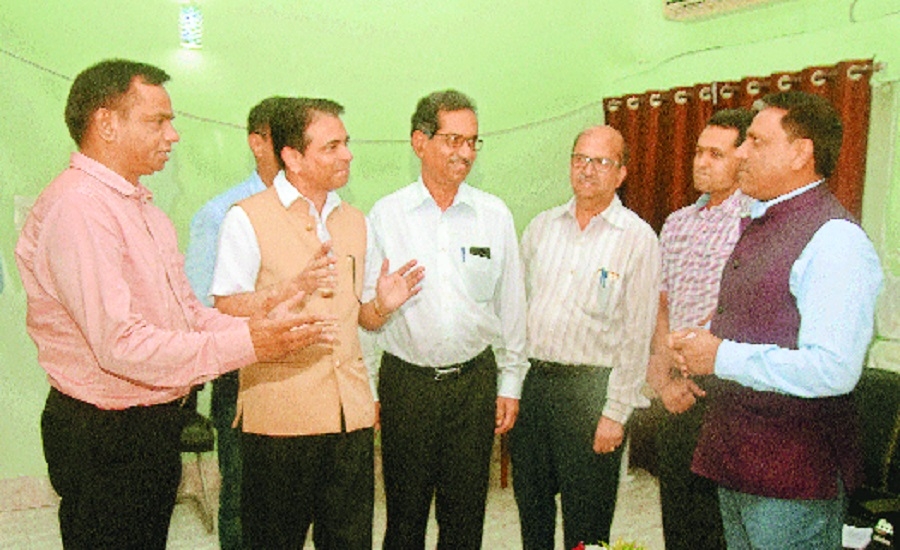 Representatives of trade, industry and professionals interacting with the new Principal Chief Commissioner (Central GST) Pramod Kumar Agrawal (extreme right) during the interactive meeting held here at GST Bhawan, Civil Lines on Wednesday.
Business Bureau:
In an attempt to get familiar with the regional representatives of trade, industry and professionals and their issues with regard to Goods and Services Tax (GST), Principal Chief Commissioner (Central GST) Pramod Kumar Agrawal held an interactive meeting here at GST Bhawan, Civil lines on Wednesday. The meeting was conducted soon after Agrawal took over the charge of Nagpur - 1 Commissionerate, CGST Nagpur. He joined on Monday. Swachand Chavan, Deputy Commissioner and Brijendra Chowdhary, Joint Commissioner were also present.
On the occasion, Agrawal assured the representatives to extend all possible support. "The department, tax payers and trade and industry are the three main pillars of the tax collection system in the country. And thus we all need to work together and increase our revenue," he said adding that the department is ready to walk extra mile to resolve various issues of the taxpayers.
"The department will play the role of 'big brothers'. However, we want all the taxpayers and professionals to maintain transparency in their businesses," he added. Agrawal assured them of full co-operation and assistance in the smooth implementation of GST and for resolution of all their grievances and problems with technology or in person through his team of officers. Agrawal said, the Goods and Services Tax was the biggest tax reform brought in the country. "Initially there were some apprehensions among some sections of the society. But gradually it disappeared and today the system is running very effectively. It is very visible that the country has adopted it with great pride," he said.
He further asked the participating members to upload their problems in the system for speedy solution. "Apart from this, you can approach me anytime and take my help. If you have any issues with regard to the computer software, you can come to my office and get your task done," he said. On the occasion, a delegation of Vidarbha Industries Association (VIA) under the leadership of Suresh Rathi, President of VIA, raised various issues that are bothering them. Gaurav Sarda, Secretary; Prashant Mohota and others urged the authorities to speed up the process of refunds.
Some of the participants raised industry specific issues. Prafull Doshi, Past President-VIA; Omprakash Bagdia and Prashant Mohota, former Vice Presidents; Naresh Jakhotia, Treasurer – VIA; Shelendra Manawat, EC Member and Sachin Jajodia, Convener – VIA Taxation & Corporate Law Forum, also raised several issues like disallowing credit for construction services provided by infrastructure developer; GST refund on inputs when exported under zero duty; delay in refund due to Zero Balance of IGST for EPCG refund; balance of Education Cess in Cenvat register as on 31-07-17; and disallowance of refund of input service and capital goods during inverted duty refund calculations. C G Shegaonkar, President – MIA; CA Milind Kanade, Secretary – BMA; CA Suren Duragkar, Chairman - Nagpur Branch of WIRC of ICAI; CA Akshay Gulhane, EC Member – ICAI; CA Sanjay M Agrawal; Sunil Jha of Lloyds Metal; Sunita Agarawal, Ultratech Cement; and others were present.