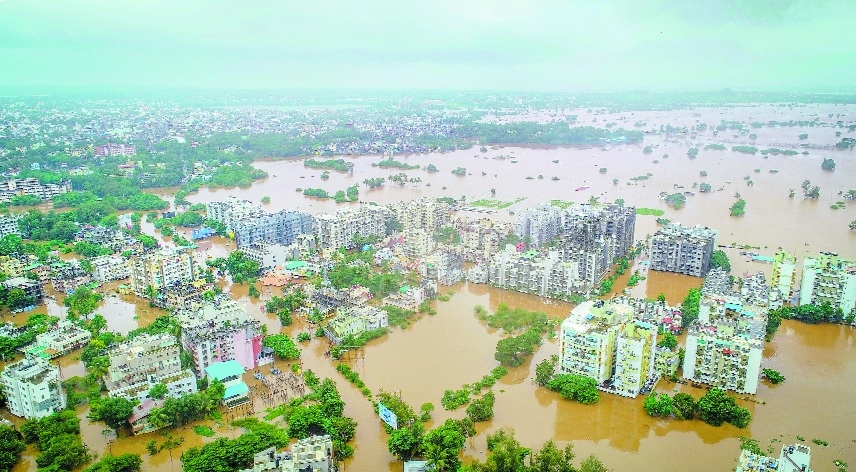 A view of flooded area due to overflow of Panchganga river during monsoon season in Kolhapur on Wednesday. (PTI)
SANGLI:
THE flood situation due to heavy rains has worsened in western Maharashtra's Sangli with water entering the district prison, forcing authorities to shift prisoners to its upper floor, an official said on Thursday. Following heavy downpour in Sangli in the last few days, the district jail premises, housing around 370 inmates, got inundated on Wednesday. "Currently there is nearly knee-level water in barracks on the ground floor. We have shifted all inmates to barracks on the first floor.
So far, there is no need to shift the inmates out of the jail," Additional Director General (Prisons) Sunil Ramanand said told PTI. Till Wednesday, around 1.32 lakh flood-affected people in Pune region (comprising districts of Pune, Satara, Solapur, Sangli and Kolhapur) were shifted to safer places, Pune Divisional Commissioner Deepak Mhaisekar earlier said. Sixteen deaths in rain and flood-related incidents were reported from western Maharashtra in the last one week, as the situation continued to remain grim in Sangli and Kolhapur, another official said. Over 53,000 people were evacuated in Sangli, 51,000 in Kolhapur and 13,000 in Pune till Wednesday, Mhaisekar said.
"The road communication between Sangli and Kolhapur and between Kolhapur and Belgaum (in Karnataka) has been affected," he said, adding that people should avoid traveling on Mumbai-Bengaluru national highway (NH 4). In Solapur district, 2,500 people were moved to safer places in the temple town of Pandharpur after the discharge of water from the overflowing Ujani dam increased, he said. In Satara, the flood situation was grim in Wai, Karad and Mahabaleshwar hill town and 6,000 people were evacuated. Teams of the Territorial Army, Navy and National Disaster Response Force (NDRF) were conducting rescue operations in Kolhapur and Sangli, the official said. "All dams in the region are overflowing and the MeT department has predicted continuous rains for next few days," he said.
Floods hit power, water supply in Sangli, Kolhapur
KOLHAPUR:
FLOODS have hit the districts of Kolhapur and Sangli hard with the city of Sangli completely marooned, and over two lakh people living without electricity in affected areas, Chief Minister Devendra Fadnavis said here on Thursday after conducting aerial survey. Several water-supply schemes have become dysfunctional and crops and houses have been damaged with thousands shifted to safer places, he said, adding that restoring water and electricity supply was the priority. "During the aerial survey, I found most of the Sangli city surrounded by water. My helicopter was not given permission to land at Sangli and Karad. Since Kolhapur has an airport, I could land here and meet affected people," he said.