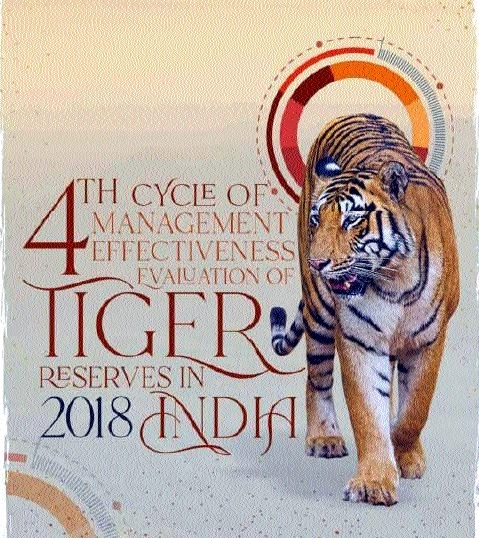 By Roshan Chachane
RAIPUR
The Management Effectiveness Evaluation (MEE) of Tigers in India 2018 report has pointed out human settlements, hunting and illegal felling among others as the major management weakness hindering the conservation efforts in the Tiger Reserves of Chhattisgarh, which resulted in downfall in the tiger population. In the recent tiger estimation report, the tiger population in Chhattisgarh slumped from 46 to 19. The radical decline in the population of the national animal has come as a major jolt to the Forest Department of Chhattisgarh. Some of the most common management weakness in ATR, USTR and ITR are as following: hamlets inside the core and buffer areas of the reserves, which are hindering management process. Almost all the tiger reserves are lacking in patrolling vehicles and insufficient wireless handsets to maintain communication between the field staffers.
They don't even have alternative source to charge the handsets as most solar panels are defective. Some of the management weaknesses specific to ITR and USTR are presence of left wing extremism and prevalence of traditional hunting practice of Pardas, wherein villagers engage in community hunting, extension of agriculture by encroachments, illicit felling, cattle grazing, firewood collection, and collection of Mahua and other minor forest produce (MFP), no camp network or organised patrolling, maintenance of patrolling register, watchtowers/patrolling camp deserted in night, no communication network. ITR also faces another issue concerning the administration as the Office of Field Director is located approximately 170 kilometres away, which hampers supervision and monitoring activities.
No tourism due to LWE, dual control system as the Tiger Reserve has mostly been under the additional charge of the territorial Chief Conservator of Forest (CCF/CF) as well as of Deputy Conservator of Forest. All the Tiger Reserves are also facing shortage of funds for conservation, development activities including protection and delay in funds sanctioned by National Tiger Reserve Authority (NTCA) In the average of four evaluations in 16 years, Indrawati Tiger Reserve (ITR) stands at 50th number out of 50 tiger reserves while Udanti-Sitanadi Tiger Reserve (USTR) at 48th and Achanakmar Tiger Reserve (ATR) at 45th. These dismal ratings of tiger reserves also reflect Chhattisgarh's standing among 18 states, which is right at the bottom. However, there were some minor improvements in 2018 rankings, which put ITR at 46th, ATR at 32nd and Udanti-Sitanadi at 30th spot. As per evaluation of 2018, Pench Tiger Reserve and Periyar Tiger Reserve share top spot with 93.75 per cent marks while Kanha National Park is at second spot with 92.97 per cent. Principal Chief Conservator of Forest (PCCF) Wildlife Atul Shukla stated that they are working on sorting out the management weakness pointed out in the MEE Report. They even sought the expertise of four officers from Madhya Pradesh Forest Department, which has seen remarkable success in this direction.