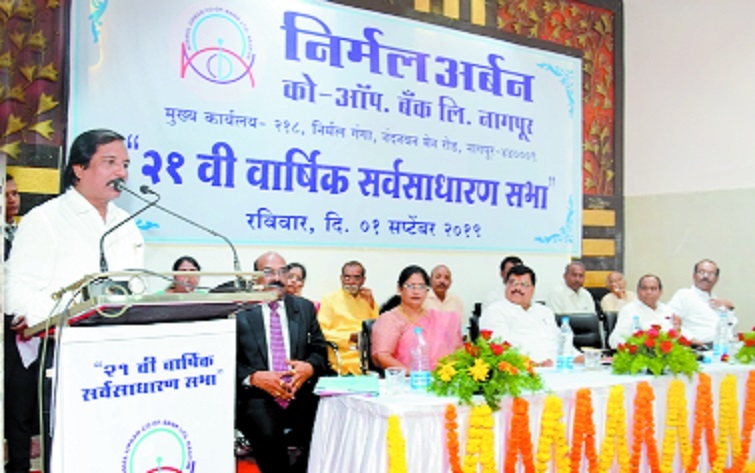 Business Bureau :
NIRMAL Urban Co-operative Bank recently conducted its 21st annual general meeting. The meeting was held under the guidance of Nirmala Manmode, Chairman of Nirmal Urban Co-operative Bank. Founder of the bank Pramod Manmode, all directors, Chief Executive Officer L D Revatkar along with the members were present at the meeting. Chairman of the bank Nirmala Manmode, presented the annual report before the members. "Due to proper planning and management of deposits and disbursement, the bank is able to get operating profit of Rs 341.40 lakh during the year 2018-19," Nirmala Manmode said. She also informed that the bank has registered net profit of Rs 56.66 lakh.
She also informed that proposal of 4 per cent dividend to the shareholders has been sent to Reserve Bank of India. Nirmala Manmode also informed that the Reserve Bank of India has given permission to the bank for RTGS, NIFT, core banking, central clearing, banking solutions, Debit Pass Rupee Card, SMS, IMPS, e-commerce, Aadhar link saving accounts, BBPS, IMPS, Pradhan Mantri Suraksha Bima, Pradhan Mantri Jeevan Jyoti Bima facilities. Pramod Manmode, Founder of the bank also expressed satisfaction over the performance of the bank.
Children of members who had secured good marks and figured in the merit list in class 10th and 12th were also felicitated with momento and certificate. L D Revatkar conducted the proceedings of the meeting while Ramesh Khurana, Manager proposed the vote of thanks.