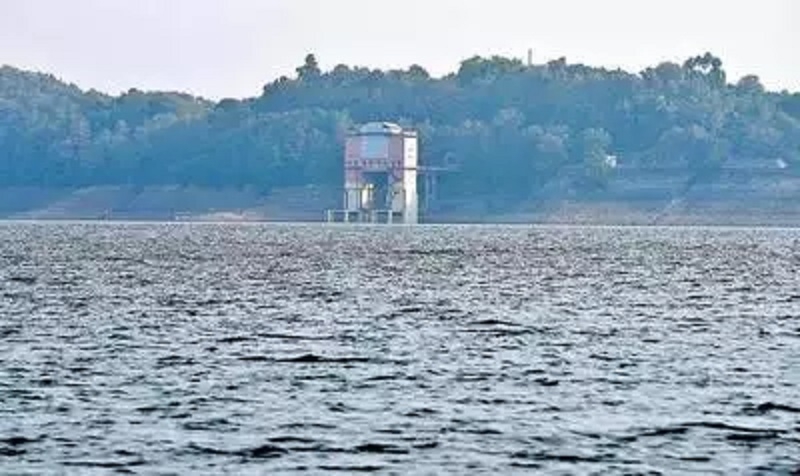 Staff Reporter:
With opening of two gates of the biggest irrigation project of State, Kamptee Khairy dam capacity to increase by manifold in next 24 hours
Call its nature's bounty or blessings of Lord Ganesh, water worries of the Orange City are now over as Totladoh, the mainstay of drinking water supply for Nagpurians, is inching closer to its maximum stocking capacity. As the dam is getting filled to its brim, Irrigation Department officials have decided to open its gates by Monday night. This in turn will increase water storage in Kamptee Khairy dam, manifold within next 24 hours. Officials said, if water stock in Totladoh is even 35 per cent of live stock and that of Khairy at 50 per cent then Nagpur Municipal Corporation (NMC) does not have to worry about drinking water supply.
This is enough to ensure year-long drinking water supply to the city. In today's situation, it is capable to meet the city's water demands for at least next two years. As of Monday evening, storage in Totladoh was around 88 per cent while that of Khairy -- 38 per cent. The situation, however, changed very fast owing to lifting of gates of Machemara Dam in Chourai, the upstream of Totladoh, leading to ingress of massive volume of water.
The heavy rainfall in catchment area of Pench river and Kanhan has lead to opening of gates of in Chourai region of neighbouring Madhya Pradesh and by Monday night the water stock in Totladoh has reached almost 90 per cent of its designed capacity. Officials of Irrigation Department apprised District Collector Ashwin Mudgal of the situation as he also heads the Disaster Management Authority. Collector said, instructions were given to officials of Irrigation Department to take their decision based on standard parameters and taking into account ground situation.
As per unconfirmed reports, administration is planning to open two gates of Totladoh Dam in next couple of days that will raise the water level of Navegaon Khairi (popularly called Kampti Khairy). Alert sounded The designated live storage of Totladoh is 1016.93 MCM and the live storage crossed well beyond 888.35 MCM on Monday night. District administration, on Monday, issued an advisory for officials to remain prepare to handle any untoward incidents in coming days as both Pench and Kanhan river are likely to witness major inflow owing to heavy rains lashing Central India portion in MP, bordering Nagpur District. The administration also warned people who reside near Pench and Kanhan rivers to remain alert in view of current situation.
People in Kamptee, Ramtek, Parsheoni and Mouda who have settlements near the Pench and Kanhan rivers and in vicinity of canal network and small rivers as release of water from Totladoh might also affect their area. Best water stock position in Totladoh in 4 yrs It is for the first time in last four years when water stock in Totladoh crossed the 88 per cent mark on this date. In 2016 the live storage was 78.84 per cent, in 2017 the live storage was 20.28 per cent and in 2018 it was 28.05 per cent. Owing to irregular monsoon during last year and poor start this year, Nagpur city for first time in history experienced severe water crisis post summer as NMC was forced to undertake water cuts for three days in week. Only in view of Ganpati and Mahalaxmi festival civic administration rolled back water cuts owing to improved position in dams.
With 20 more days still to go for the conclusion of monsoon, the Irrigation officials are sure that Totladoh is going to have highest ever water stock in recent times. However, given the current state of dam, it highly unlikely that Totladoh will be allowed to be filled to its brim and hence its gates are likely to be raised to release maximum water as there is sufficient capacity in Navegaon Khairy. At this juncture, the administration will have to open the gates for the safety of the dam. This will increase the water level in rivers like Pench and Kanhan that may create flood like situation in next few days. Vidarbha better on water front The ongoing heavy rains in Nagpur district and Vidarbha also raised the water level in major irrigation projects in the district. Till date, Nagpur district received 987.14 mm rainfall.