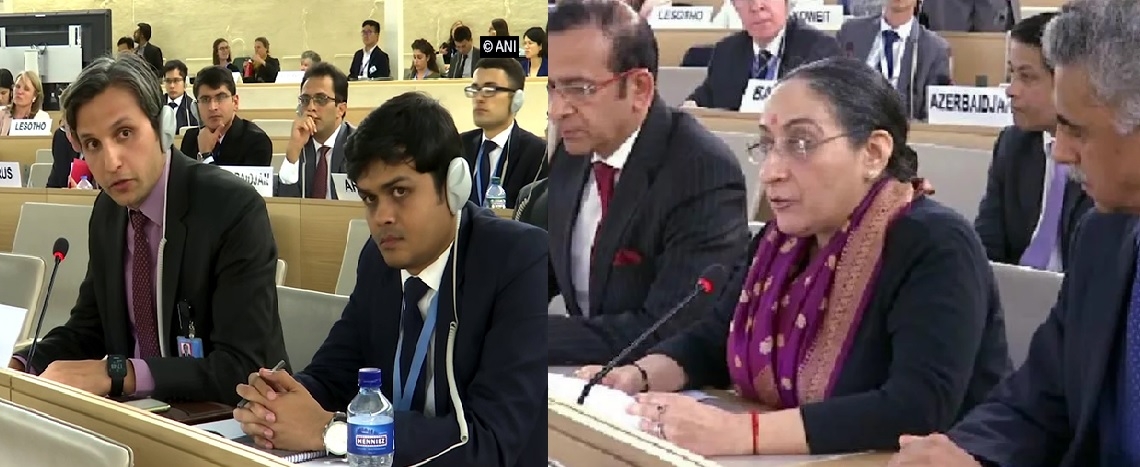 First Secretary at India's UN Mission Vimarsh Aryan and (R) Secretary (East) MEA, Vijay Thakur Singh make their statementsat the UNHRC in Geneva on Tuesday. (ANI)
GENEVA :
INDIA tore into Pakistan at the UN Human Rights Council (UNHRC) on Tuesday for raking up the Jammu and Kashmir issue, saying a country with a "gory record" on human rights had presented "false" and "concocted" narrative and asserted that New Delhi will accept no foreign interference on the internal matter. India highlighted that Pakistan is the "epicenter of terrorism", which conducts cross-border terrorism "as a form of 'alternate diplomacy' vis-a-vis India, and cautioned the world body against allowing its platform to be misused by such nations.
"Pakistan has today pretended to speak as the voice of the global community on human rights. But the world cannot be fooled. Pakistan's gory record speaks for itself," said Vimarsh Aryan, First Secretary at the Permanent Mission of India to UNHRC. He was responding on behalf of India to Pakistan Foreign Minister Shah Mehmood Qureshi's address in which he levelled wild and unsubstantiated allegations regarding Jammu and Kashmir. "I have been forced to take the floor to call out the blatant misrepresentation of facts and false narrative peddled by Pakistan in all its statements today. This is an ill-disguised effort to advance its territorial ambitions. We reject this propaganda," Aryan said exercising the right to reply. "We are not surprised at Pakistan's hysterical statements with false, fabricated narratives aimed to politicise and polarise this forum.
Pakistan realises that our recent decision cuts the very ground from under its feet by creating obstacles in its continuing sponsorship of cross-border terrorism against India," the senior Indian diplomat said. He added that "in this desperate mind-frame, some Pakistan leaders have even gone as far as to call for 'Jihad' and to encourage violence both inside Jammu and Kashmir and in third countries, in order to paint a picture of "genocide' which even they know is far from reality." Hitting out at Pakistan, Aryan said, "This rhetoric will not distract international attention from Pakistan's persecution and elimination of religious and ethnic minorities -- be it the Christians, Sikhs, Shias, Ahmadiyas and Hindus.
This is the reason that Pakistan no longer publishes official statistics about its minorities as India does." He said the recent case of abduction, forced conversion and marriage of a minor Sikh girl Jagjit Kaur, exemplifies the state of women, especially from the minority communities in Pakistan. "And today, in this Council, Pakistan has the audacity to tell others about human rights that it so egregiously violates again and again," Aryan said. "Jammu & Kashmir has been, is and shall continue to be an integral part of India. Pakistan's nefarious designs will never succeed because the people of India are united in their determination to preserve our territorial integrity along with our core values of democracy, tolerance and unity in diversity. Jammu & Kashmir and Ladakh will continue to progress and prosper along with the rest of India," the diplomat declared.
Earlier, Secretary (East) in the External Affairs Ministry Vijay Thakur Singh, while hitting out at Pakistan, said, "Those who abet, finance and support terrorism in any form on territory under their control are in truth the worst violators of human rights." She said Pakistan was crying victim when it actually is the "perpetrator" of human rights violations and cautioned the world body against its platform being misused. "We should call out those who are misusing this platform for malicious political agendas under the garb of human rights. Those who are attempting this speak on the human rights of minorities in other countries whilst trampling upon them at will in their own country. They cry victim when they actually are the perpetrators," Singh said.
Pak demands international probe into Kashmir situation
GENEVA :
PAKISTAN on Tuesday demanded an international investigation by the UN Human Rights Council into the situation in Kashmir and urged the world rights body not to remain "indifferent" after India revoked J&K's Special Status. Addressing the 42nd session of the UN Human Rights Council (UNHRC) here, Foreign Minister Shah Mahmood Qureshi, leading the Pakistani delegation, said the top UN rights body should not be embarrassed on the world stage by its inaction over the issue.
"Today, I have knocked on the doors of the Human Rights Council, the repository of the world's conscience on human rights, to seek justice and respect for the people of Kashmir," he said. In its desperate attempt to internationalise the issue of Jammu and Kashmir, Pakistan on Tuesday submitted a 115-page "dossier" to the UN Human Rights Commission (UNHRC), which contained wild and unsubstantiated allegations about the situation there. In the document, 35 pages have been devoted to history and the current situation in Kashmir, which Pakistan itself admits is based on "scantily available information". The rest 80 pages, in the form of an annexure, contain photographs of some funerals, protests and apprehension of separatist leaders like Yasin Malik.
The annexure also has some list of "innocent" people, which Pakistan claims were killed. It, however, does not specify how they were killed and whether they were victims of terrorists. To target the Indian Government, the dossier cites critical comments made by Congress leader Rahul Gandhi, National Conference leader Omar Abdullah, PDP chief Mehbooba Mufti, Nobel laureate Amartya Sen, former member of Sonia Gandhi-led National Advisory Council (NAC) Jean Dreze, Left activist Kavita Krishnan and author Arundhati Roy.
Qureshi asked the Council to urge India to immediately stop the use of pellet guns, lift the curfew, reverse the clampdown and communications blackout, restore fundamental freedoms and liberties, release political prisoners and fulfil obligations under the UN Security Council Resolutions and various human rights instruments, as required by international law. Qureshi on Tuesday described J&K as an "Indian State", soon after he attacked India at the UNHRC here for revoking the Special Status of the State. "India is trying to give an impression to the world that life has returned to normalcy. If the life has returned to normalcy, then why don't they allow you, the international media, the NGOs, civil society organisations to go into the Indian State of Jammu and Kashmir and see for themselves what the reality is," Qureshi told reporters.