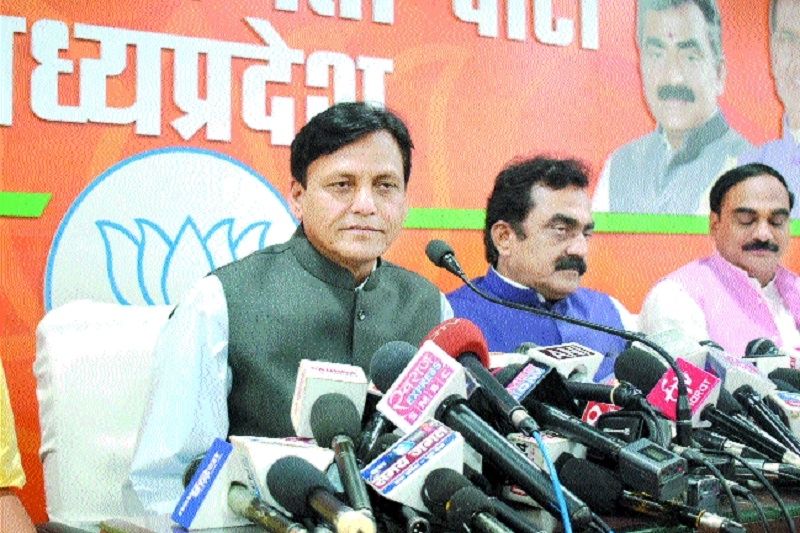 Union Minister of State for Home Nityanand presenting the 100-day report card of Modi Government during press conference in State capital on Tuesday. BJP State President Rakesh Singh accompanied him.
Staff Reporter :
Modi government has done many unprecedented works and took many bold decisions, including scrapping of Article 370 and 35A from Jammu and Kashmir. After scrapping of Article 370, terrorism has come to an end in the valley. This was stated by Union Minister of State for Home, Nityanand Rai during the press conference at BJP headquarters in State capital on Tuesday. Presenting the report card of Modi government on completion of 100 days in centre, Nityanand Rai told that through the bold decisions taken by Modi Government, country has become secure.
Talking about Article 370, he said that crores of rupees used to be sent to valley in the name of development but development happened only of three families. Article 370 rather flourished the terrorism and with its abolition, now terrorism has ended in valley. He claimed that Modi Government is committed to provide house to roofless people and by the year 2022, all such people will receive the houses. Likewise, no house will remain with gas connection and electricity. In these 100 days of Modi government, gas connections have been given to 80 lakh people.
Ayushman Bharat scheme has emerged as biggest scheme and so far, 40.93 lakh people have been benefitted from it. So far, 9 crore cards have been issued under the scheme. Talking about the decisions of Modi government to empower women, he said that triple talaaq has been prohibited and it is a historical step. Central Government also amended the POCSO Act to protect children from sexual offences. Adding further, he stated that Modi government is moving steps to make country with economy of 5 trillion dollar. Country's prestige and respect has increased during Modi government tenure.
Moreover, Modi government has also formed Jal Shakti Mantralaya to realise the dream of providing pure and clean drinking water to everyone. However, he could not answer the questions related to recession in satisfactory manner. He rather told that more loan under Mudra scheme is being distributed and jobs are getting created. On this occasion, BJP State President Rakesh Singh was also present.