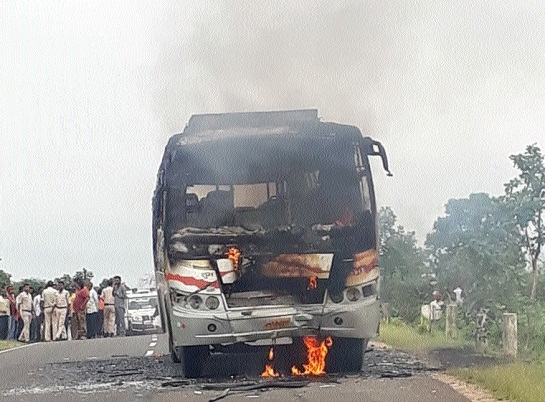 Our Correspondent :
Lucky escape for passengers travelling in the bus
Seoni SENSATION prevailed amongst residents when a man was killed after being hit by a speeding bus which caught fire after the accident. It was a lucky escape for the passengers in the bus as nobody was hurt in the incident. The incident took place when a bus of Chourasia Travels ferrying passengers from Seoni to Bhoma was passing through Dunda area.
The bus was rammed into a motorcycle. One of the two motorcycle riders succumbed to his critical injuries on-the-spot of the accident while another was critically injured. In the accident, the motorcycle got entangled with the bus and its fuel tank started leaking. Fire occurred due to sparking. Fire was spread to the front portion of the bus and panic was created amongst the passengers.
Accused bus driver and conductor managed to escape from the spot while passengers also rushed out from the bus. Learning about the incident, police team reached the spot and fire brigade was called on the spot. Fire tender doused the fire and police have seized the bus while further investigations are underway. Police have registered a case under Sections 304 (A), 279 and 337 of the IPC and started search to identify and apprehend the accused bus driver.