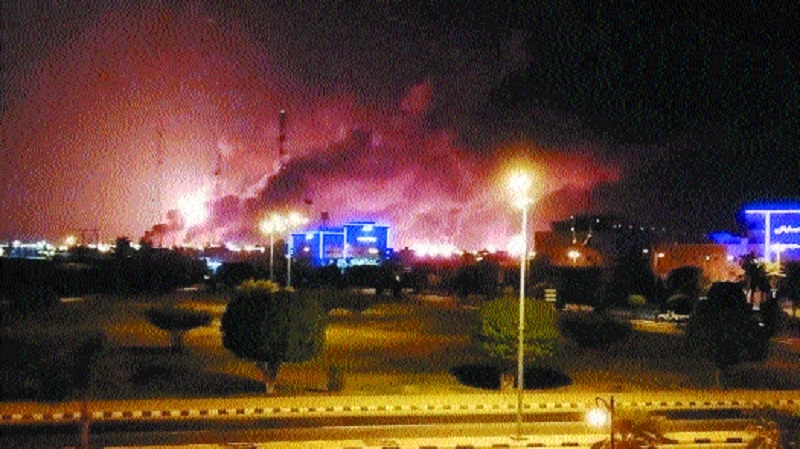 Fire is seen at the Aramco oil facility near al-Khurj area, just outside the Saudi capital Riyadh on Saturday. (Twitter)
DUBAI :
A WEEKEND drone attack on Saudi Arabia that cut into global energy supplies and halved the kingdom's oil production threatened on Sunday to fuel regional tensions, as Iran denied US allegations it launched the assault and tensions remained high over Tehran's collapsing nuclear deal with world powers. Iran called the US claims "maximum lies," while a commander in its paramilitary Revolutionary Guard reiterated its forces could strike US military bases across the Mideast with its arsenal of ballistic missiles.
A prominent US senator suggested striking Iranian oil refineries in response for the assault claimed by Yemen's Iran-backed Houthi rebels on Saudi Arabia's largest oil processing facility. "Because of the tension and sensitive situation, our region is like a powder keg," warned Guard Brig Gen Amir Ali Hajizadeh. "When these contacts come too close, when forces come into contact with one another, it is possible a conflict happens because of a misunderstanding."
Actions on any side could break into the open a twilight war that's been raging just below the surface of the wider Persian Gulf over the last months. Already, there's been mysterious attacks on oil tankers that America blames on Tehran, at least one suspected Israeli strike on Shiite forces in Iraq, and Iran shooting down a US military surveillance drone.
The attack Saturday on Saudi Arabia's Abqaiq plant and its Khurais oil field led to the interruption of an estimated 5.7 million barrels of the kingdom's crude oil production per day, equivalent to over 5 per cent of the world's daily supply. It remains unclear how King Salman and his assertive son, Crown Prince Mohammed bin Salman, will respond to an attack targeting what analysts describe as the heart of the Saudi oil industry. Late Saturday, US Secretary of State Mike Pompeo directly blamed Iran for the Saudi attack on Twitter, without offering evidence to support his claim.
Saudi battles market jitters
RIYADH :
SAUDI energy giant Aramco is battling to reassure markets after devastating attacks on two oil plants, where a prolonged shutdown risks roiling investor confidence ahead of the state-owned giant's mega stock listing, analysts say. A wave of drones struck Abqaiq -- the world's largest oil processing facility -- and the Khurais oil field in eastern Saudi Arabia, knocking out nearly half of the kingdom's crude production and exposing the vulnerability of its energy infrastructure.