Rashi Laddha, winner of highest number of awards being presented with certificate of excellence by Sanjay Kirloskar as Vishram Jamdar, Dr Pramod Padole and others look on. (Pic by Moonlight)
Staff Reporter :
"Be creative, that is the only way to achieve success in today's world." That's the mantra given by Sanjay Kirloskar, Chairman and Managing Director, Kirloskar Brothers Ltd., while addressing 17th convocation of Visvesvaraya National Institute of Technology (VNIT) in the city on Sunday. Kirloskar said, "we are living in disruptive era where every new invention threatens existing status quo." Therefore it's highly imperative that engineers find solution to critical challenges in future. "You must be ready to withstand the shocks and still be able to determine ways to unlock and explore new opportunities and here creativity will help you sail through easily," Kirloskar opined.
The convocation was held at Kavivarya Suresh Bhat auditorium, Reshimbagh. Vishram Jamdar, Chairperson, Board of Governor, VNIT, Dr Pramod Padole, Director, and host of other senior functionaries were present. Elaborating on his statement, the industrialist stated that now organisations saw engineers as creators as mundane things were taken care of by technology. Today industries are focussing on creative way on doing things that cannot be handled by machines and here Engineers role is critical. Also commenting on current scenario wherein the pace of change has left everyone rattled, he said artificial intelligence, virtual reality, internet of things (IoT), machine learning, robotics is all changing even our daily routine and the impact on our work is beyond expectations.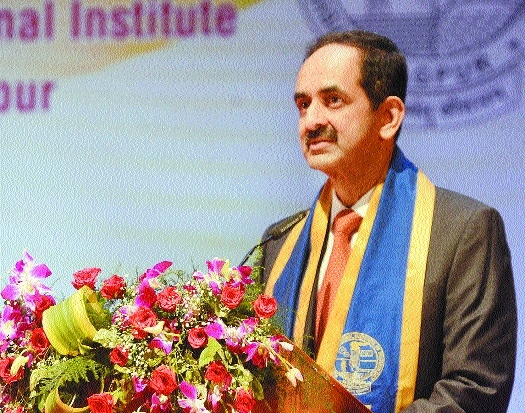 Sanjay Kirloskar delivering the address at VNIT's 17th convocation held at Kavivarya Suresh Bhat auditorium on Sunday.
"Kirloskar while sounding a note of caution wondered whether too much reliance on technology is affecting us negatively, but if in larger scheme of things, if it is helping humans to improve decision-making and making us better informed then it is all okay," he added. Wishing that Indian engineers though have capability they need to now deliver with their breakthrough ideas that can ensure wide acceptance the world over, in the same way as that is happening in USA and China. The world is changing fast and we need to keep pace with it. As he wound-up his address, the leading industrialist pointed out to students that they need to develop ability to absorb failures and they must not get disheartened but rise again to create something worthy.

Akshar Rakholiya, who received highest number of awards, being congratulated by Vishram Jamdar as Sanjay Kirloskar and Dr Pramod Padole look on. (Right) Jamila M Kapdawala receiving degree of Bachelor of Architecture at hands of Dr Pramod Padole at the VNIT's convocation held on Sunday. (Pics by Umesh Varma/Moonlight)
"The diversity in our country is perhaps our biggest strength on which we can successfully build our future," Kirloskar emphasised. Earlier, Vishram Jamdar gave a poignant message to graduates stating that they will be carrying three things as they depart from institute, knowledge, courage and most important, ambrosia of sweet memories. Use the knowledge and courage to achieve highest goal of your life but do remember that road to peak lies strewn with challenges that they must learn to overcome. Reposing courage in their skills, Jamdar said he is confident that lessons imparted by teachers during their stint in institute will help them guide in achieving their dreams.

Jam-packed hall at the convocation ceremony showcase popularity of VNIT. (Right) New graduates from VNIT reading out pledge at convocation ceremony.
"Laying emphasis on thinking which is the only factor on which students have control, Jamdar, himself a successful industrialist, advised them to stay positive. Only positive thing provides us knowledge and ultimately knowledge makes you great". At the outset, Dr Pramod Padole outlined the programme that would be held during the Diamond Jubilee of VNIT and also listed various achievements of institute. He informed that a unique product Artificially Reinforced Vision System designed by Electronics & Communication Engineering Department under guidance of Prof K M Bhurchundi was selected as first entry to TV programme 'Launchpad'. Dr Sameer Deshkar of Architecture and Planning Department instrumental for the establishment of Integrated Research on Disaster Risk, International Centre of Excellence in Resilience Communities and Settlements, while Dr Shreeram Sonawane from Chemical Engineering Department was awarded patent for his innovative research on water purification. S R Sathe, Registrar, proposed a vote of thanks.
Rashmi Laddha tops BTech program At VNIT's convocation about 1,153 degrees were awarded, including 100 Doctor of Philosophy, 268 Master of Technology, 53Master of Science, 677 Bachelor of Technology, in various disciplines and 55 Bachelor of Architecture. Rashmi Laddha, a student from Department of Computer Science Engineering, bagged Sir Visvesvaraya Gold Medal for securing highest CGPA score of 9.78, among all student of the BTech program. She received Late N G Joshi prize for highest CGPA among all disciplines of BTech program, Late Mahamahopadyay Padmavibhushan Dr V V Mirashi medal for highest CGPA amongst all disciplines, Late Parag Tijare first prize for highest CGPA in BTech Computer Science Engineering and academic excellence prize. She was followed by Akshar Rakholiya from Department of Civil Engineering, presented with highest number of awards.
'Five factories, 5 AXIS VMC machines to be established' Dwelling on future programmes of VNIT, Vishram Jamdar outlined one major industry-institute initiative through establishment of five factories and 5 AXIS (Simultaneous) VMC Machines to impart training to nearly 10,000 students of college as well as that of other institutions. Also, Micro Small and Medium Sector (MSME) would be able to use the labs and VMC machine to train their manpower. This offers a win-win situation for institute that would earn precious money while for industry it means a trained manpower at lower cost. The students undergoing training on these machines would get certificate from their institute that would offer them better chance of employability. Also on cards is setting-up of Rs 180 crore Siemens Centre of Excellence, and besides this 12 state-of-the-art labs including an IoT lab, labs for artificial intelligence and robotics etc.