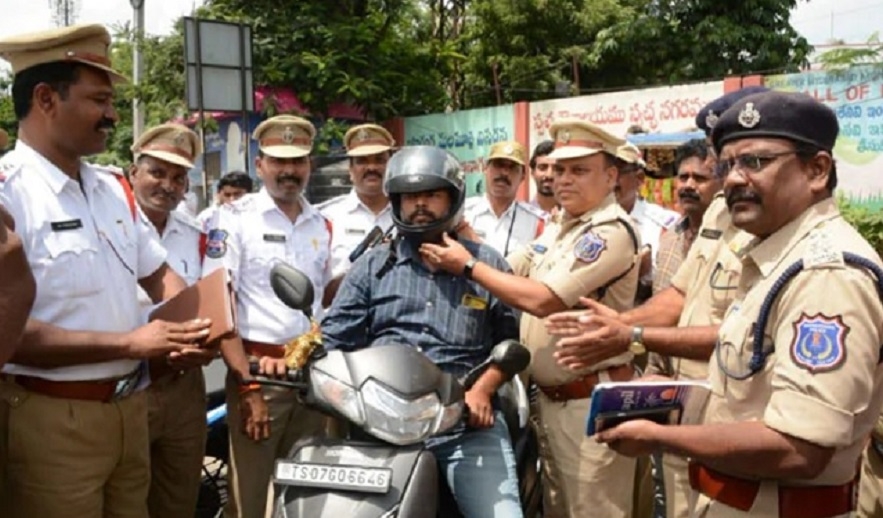 HYDERABAD:
AT A time when imposition of heavy fines for violation of traffic rules is evoking public anger in parts of the country, Rachakonda police commissionerate in Greater Hyderabad is trying an innovative method to make the motorists follow the rules. Instead of imposing fines for violations, the traffic police is facilitating the violators to buy the helmet or obtain necessary documents so that they don't repeat the violations the next time. Deputy Commissioner of Police (traffic) Divya Charan Rao launched the innovative drive on Saturday. Those found without helmet were helped to buy the same on the spot while those not having documents like pollution checked or insurance were assisted to get the same from authorities concerned on the spot. For the violators found driving without helmet, the traffic police got the slots booked online with the Road Transport Authority (RTA) to obtain the license. The initiative by Rachakonda police won appreciation from people. Netizens hailed the move, saying imposing penalties is not the only solution to deal with violations. Telangana's Minister For Urban Development and Municipal Administration K T Rama Rao also patted the police for the innovative move. Rachakonda is one of the three police commissionerates in Greater Hyderabad and covers the suburbs. Hyderabad and Cyberabad are the two other police commissionerates in the city.
Bihar auto driver fined for not wearing seat belt
MUZAFFARPUR
THOUGH an auto doesn't consist of a seat belt, still an auto driver here was imposed with a fine of Rs 1,000 for not wearing one while riding his auto, said a police official. An auto driver on Saturday had to pay a minimum fine for not wearing a seat-belt while riding in Saraiya, Muzaffarpur in Bihar. "The auto driver was asked to pay a minimum challan, which was, for not wearing a seat belt as he was an extremely poor man. This was a mistake but it was done just to impose a minimum penalty on the driver," SHO said.
Three-month relief from hefty traffic fines in J'khand
RANCHI
THE Jharkhand Government has given a 3-month breather to its people from the steep fines imposed under the amended Motor Vehicles Act, and said old penalties would be applicable for traffic rule violations till December. The Government has asked officials of the Transport and Traffic Departments to raise awareness on the amended rules during this period, an official statement said here on Saturday. Das also urged people to abide by the traffic rules and refrain from rash driving, the statement added.