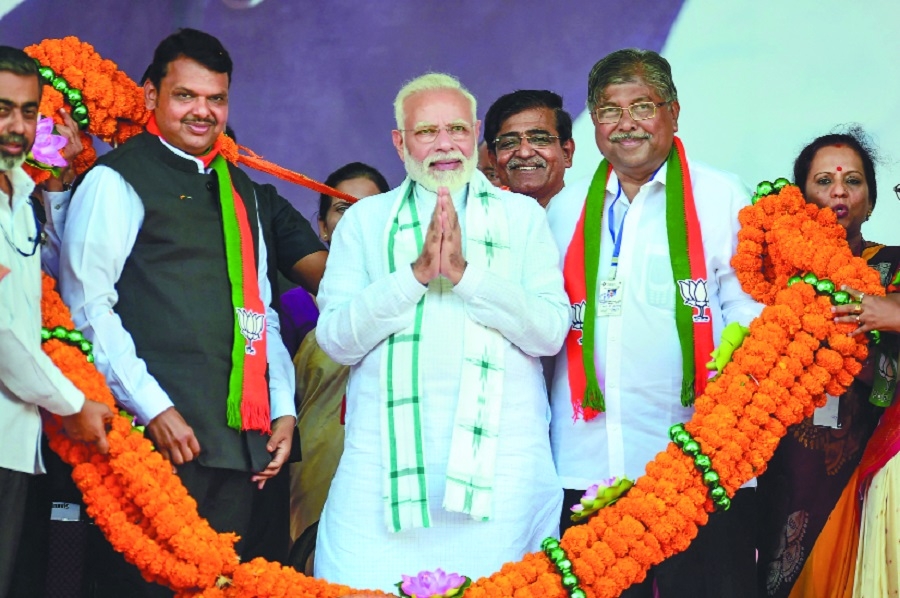 Prime Minister Narendra Modi, Chief Minister Devendra Fadnavis, President of Mah BJP Chandrakant Patil, others during the 'Vijay Sankalp Rally' in Nashik on Thursday. (PTI)
NASHIK :
GIVING rise to a lot of speculation about the future of ruling alliance in Maharashtra, Prime Minister Narendra Modi, on Thursday, praised the tenure of Chief Minister Devendra Fadnavis for his efficient leadership of the State Government, and opted to omit even the mention of Bharatiya Janata Party's junior partner Shiv Sena in the encomium. In stern words, Modi blamed 'loudmouths' for their chatter on an out-of-court resolution to the Ram temple issue. He said, the Supreme Court was hearing Ram Mandir case and insisted that the judiciary must be allowed to do its work.
At a rally here ahead of next month's Maharashtra Assembly elections, Modi did not name the Sena or any of its leaders, but called them 'badbole' (loudmouths) indirectly aiming his barbs at Shiv Sena leaders who have been calling for early decision on Ram Mandir issue. "For God's sake, I request (such) people to trust the judiciary of India. .. I am amazed at the 'bayan bahadurs and badbole' (loudmouths) on the Ram Mandir issue. Every one in the country respects the Supreme Court. The apex court is hearing the case. I want to tell these people with folded hands to have faith in the judicial system," Modi said.
Shiv Sena has been demanding construction of the Ram temple and asking the Modi Government to take steps in that direction like it did on Article 370 in Jammu and Kashmir. Sena chief Uddhav Thackeray on Monday demanded that the Centre take a "courageous decision" to bring in a law to build a Ram Temple in Ayodhya. ".. we expect that Centre should not wait for court order and use it powers. The Centre took a courageous step in abrogating Article 370. It is out request that the Centre would do the same for Ram Mandir issue," the Sena chief had told reporters here. Blaming the Congress for the plight of Kashmiris for decades, Modi called for "hugging each Kashmiri and creating a "new paradise" in the Valley.