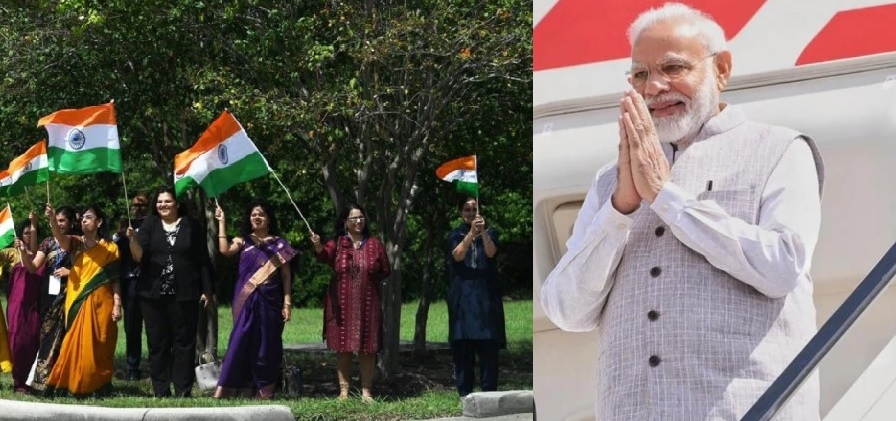 HOUSTON :
PRIME Minister Narendra Modi was accorded a warm welcome by members of the Indian community here on Saturday as he arrived at the George Bush International airport for the mega "Howdy Modi" event in which he will be joined by US President Donald Trump and address over 50,000 Indian-Americans. The "Howdy Modi" event on Sunday at the sprawling NRG Football Stadium here is the largest gathering ever for an elected foreign leader visiting the US, other than the Pope.
US President Trump's presence at the Houston event marks a new milestone, Modi had said in his departure statement ahead of his visit. This would be the first time a US President is attending an Indian-American community event with Modi. Welcoming Trump "special gesture", the Prime Minister had said that it signifies the special friendship between India and USA and highlights the strength of the relationship and recognition of the contribution of the Indian community to American society and economy. In Houston, Modi will also interact with CEOs of leading American energy companies with an aim to enhance India-US energy partnership.
From Houston, Modi will fly to New York where he will address the annual high-level UN General Assembly session in New York on September 27 and will have a packed agenda.
Modi's Houston visit may seal major energy deal
NEW DELHI :
PRIME Minister Narendra Modi's upcoming agenda-heavy US visit may start a new phase of corporate relations between major energy companies of the two countries. According to industry sources, an energy major of India Inc may finalise a deal to pick up equity stake in a US-based Fortune 500 oil company. Reliance Industries (RIL), Adani, and Vedanta are among the companies with significant investment in oil and energy segment. RIL, Vedanta Cairn or Adani may take up a stake in an American oil major, sources said. CEOs of 16 leading American companies will attend the roundtable with Modi in Houston on Saturday, including Baker Hughes, BP, Cheniere Energy, Dominion Energy, Emerson Electric Company, ExxonMobil, Perot Group and Hillwood, IHS Markit, LyondellBasell Industries, McDermott, Schlumberger, Tellurian, Total, Air Products, Vinmar International and Westlake Chemicals.
Further, public sector oil companies including Indian Oil Corp are also likely to use the opportunity to strike oil supply deals, in the wake of the recent disruption in oil markets post drone attacks at Aramco's two oil processing units in Saudi Arabia. Modi arrived in Houston on Saturday and head for the roundtable with the chiefs of the energy majors. He is also expected to meet top executives of various start-ups and encourage them to have a wide presence in India.