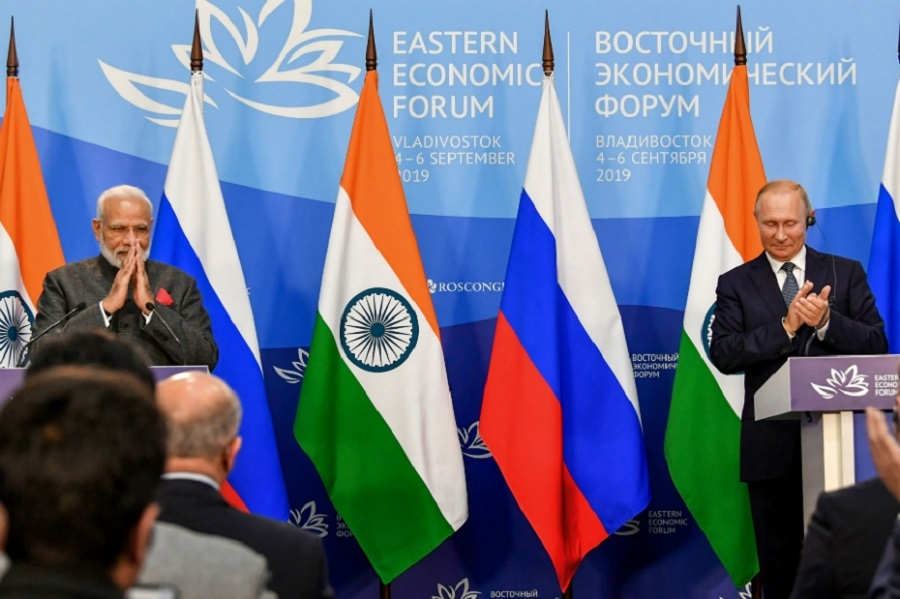 VLADIVOSTOK :
IN A major breakthrough in Indo-Russian defence ties, India will start manufacturing spare parts and components for the Russian military equipment under transfer of technology and set up joint ventures, as the two strategic partners tried to transform their existing buyer-seller relationship into one of collaboration. This was agreed during wide-ranging talks between Prime Minister Narendra Modi and Russian President Vladimir Putin here in the Far East Russian port city as they pledged to elevate India-Russia partnership to new heights of cooperation. Close cooperation between Russia and India in military and military-technical areas is a key pillar of bilateral and especially privileged strategic partnership, the two leaders said.
According to a joint statement, the two countries expressed their commitment to upgrading their defence cooperation, including by fostering joint development and production of military equipment, components and spare parts, improve the after-sales service system. Both countries agreed to take forward ongoing engagement to encourage joint manufacturing in India of spare parts, components, aggregates and other products for maintenance of Russian origin Arms and defence equipment under the Make-in-India programme through transfer of technology and setting up of joint ventures. Briefing reporters on the Modi-Putin talks, Foreign Secretary Vijay Gokhale said the agreement for manufacturing spare parts for the Russian military equipment was in tune with Prime Minister Narendra Modi's wish to transform the Indo-Russia defence relationship from one of buyer-seller to a collaborative one. The two sides agreed to foster cooperation with the goal of keeping joint production in India of spare parts, components and other products on track.
This is aimed at ensuring the maintenance of the Russian-made armaments and military equipment under the Make in India programme by transferring technologies and setting up joint ventures, the official Tass news agency reported. In the joint statement, the two sides recognised the need for an institutional arrangement for reciprocal provision of logistic support and services for the Armed Forces. It was agreed to prepare a framework for cooperation on reciprocal logistics support, it said. Russia plans to set up above 20 nuclear power units in India in next 20 years: RUSSIA on Wednesday said that it is planning to set up more than 20 nuclear power units in India in the next 20 years. Prime Minister Narendra Modi, who arrived in Russia's Far Eastern city of Vladivostok earlier on Wednesday, gave a joint statement at the 20th Annual Summit between the two countries, along with Russian President Vladimir Putin by side.
Indian astronauts to be trained by Russia for Gaganyaan programme: PM
VLADIVOSTOK :
PRIME Minister Narendra Modi on Wednesday said that Russia will train the Indian astronauts for the country's ambitious manned space mission -- the Gaganyaan. The first Gaganyaan flight scheduled for 2022 will carry three astronauts, who will be picked from among the test pilots in the Armed Forces. Russia will help train Indian astronauts for the manned space mission -- the Gaganyaan project, Modi said in a joint press meet with Russian President Vladimir Putin after their talks here. Both Modi and Putin welcomed the active work carried out within the framework of the signed MoU on support of the Russian side for the 'Gaganyaan'.
Last year during Vladimir Putin's visit to India, the MoU was signed on cooperation on the space mission. India and Russia also welcomed the increased cooperation between the State Space Corporation 'Roscosmos' and the Indian Space Research Organisation (ISRO), including the human spaceflight programmes and satellite navigation, according to a joint statement. The two leaders also agreed that it was necessary to exploit to a greater extent potential of India and Russia in launch vehicles development, construction and utilisation of spacecraft for different applications, as well as research and use of outer space for peaceful purposes, including planetary exploration, the statement said. The ISRO has begun the process of short-listing probable candidates for its first manned mission and it should be completed by next month. The short-listing is being done in batches and the candidates will be sent to Russia for training after November, a senior ISRO official said in New Delhi last week. The total fund requirement for the Gaganyaan Programme is nearly Rs 10,000 crore and includes cost of technology development, flight hardware realisation and essential infrastructure elements. Two unmanned flights and one manned flight will be undertaken as part of Gaganyaan programme. Russia is one of the three countries - the other two being France and the US - that share robust cooperation in all three strategic sectors of defence, nuclear and space with India. Indo-Russian space collaboration dates back to four decades. In 2015, the two sides marked the 40th anniversary of the launch of India's first satellite 'Aryabhatt' on a Russian (then USSR) launch vehicle 'Soyuz'.
Joint production of Kalashnikov rifles will take Russia-India ties to new level, says Modi
DIVOSTOK:
THE launch of a Russian-Indian joint venture for manufacturing AK-203 Kalashnikov assault rifles in India will bring bilateral cooperation in military and technical area to a new level, Prime Minister Narendra Modi said on Wednesday. Indo-Russian Rifles Private Limited is a rifle-manufacturing facility in Korwa, Amethi in Uttar Pradesh. It is a joint venture between the Ordnance Factories Board (OFB) on the Indian side, and Rosonboron Exports and Concern Kalashnikov on the Russian side. The factory manufactures the AK-203 variant of the famous Kalashnikov family of rifles. The rifles will strengthen India's security forces. "As far as a joint venture on producing the AK-203 is concerned, it will enable us to bring our cooperation in the defence area beyond the narrow framework and create a reliable basis for developing our joint production," Modi said after talks with Russian President Vladimir Putin on the sidelines of the Eastern Economic Forum in Vladivostok.