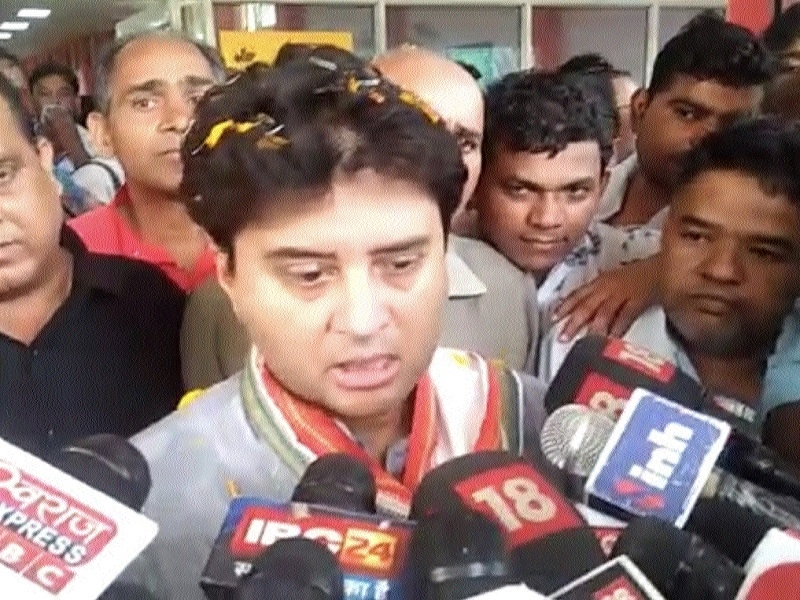 Our Correspondent :
Gwalior Senior Congress leader, Jyotiraditya Scindia, on Wednesday, said that the Congress Government in the State should not work with the interference of anyone rather it should be freely run. Indirectly endorsing Cabinet Minister Umang Singhar's allegations on party's senior leader Digvijay Singh, Scindia made this statement while replying to the question of reporters here. It may be mentioned that Jyotiraditya Scindia is on a two-day visit to Gwalior. Scindia said that the Chief Minister should hear the problems of the ministers and MLAs and solve their issues by holding a meeting with them. He should try to ensure a compromise between them.
It may be recalled that Forest Minister Singhar had, on Tuesday, made the serious remarks against former Chief Minister Digvijay Singh. He had said that Digvijay Singh was trying to run the State Government from behind the scenes. Earlier on Monday, the Forest Minister had claimed that Singh was trying to destabilise the government. He alleged that Singh was involved in all sorts of unlawful business like illicit liquor peddling, illegal mining etc.
"The government should itself run without any interference of anyone. Party has come to power in the State after 15 years of hard work done by the party workers including myself," Jyotiraditya Scindia said. As a matter of fact, Minister Singhar is known as a hardcore supporter of Jyotiraditya Scindia. "The CM should make the solutions to the issues which were raised by Umangji. The allegations against Digvijaya Singh Ji are very serious, the CM should call both leaders and should end the matter by discussion" Jyotiraditya added. Scindia also said that the party had come to power due to the hard work by the party workers with the belief of establishing a new Madhya Pradesh where development and progress will have. "But we are developing differences between each other, CM should make efforts to unit them.", he also added.