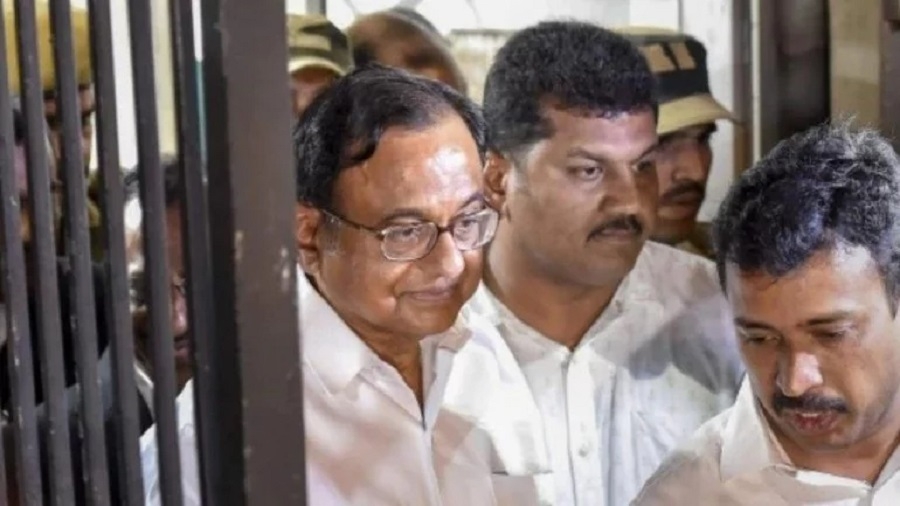 NEW DELHI :
Chidambaram was allowed to carry his spectacles and prescribed medicines. He will be kept in a separate cell (Jail No.7) in Tihar prison with western-style toilet
FORMER Union Finance Minister P Chidambaram was put behind bars on Thursday hours after a Central Bureau of Investigation (CBI) court sent him to two-week judicial custody in the INX Media case in an unprecedented setback to the Congress veteran who even offered to surrender to the Enforcement Directorate(ED) in a desperate attempt to be spared the ignominy of going to prison.
Chidambaram, a former Union Home Minister and who is just 10 days short of his 74th birthday, was taken in a blue police bus to Tihar prison from a special CBI court in Rouse Avenue--a distance of 18 km, and was ironically lodged in the same jail No.7 where his son Karti was locked up for 12 days in the same case last year. Jail No.7 usually houses those facing ED cases. Ratul Puri, nephew of Madhya Pradesh Chief Minister Kamal Nath, who is being probed by the ED in connection with the AgustaWestland and a bank fraud case, is also lodged in this jail.
A jail official said food is usually served to the inmates between 7 and 8 PM but it is kept aside for those who arrive late due to court procedures. The usual dinner menu is rotis, dal, sabji and rice. Chidambaram, who was accompanied by police personnel in the police bus, was put in a special cell in the Asia's biggest prison complex as per the orders of the CBI court. As those assembled in his court waited with bated breath for his order after a 30-minute hearing, special judge Ajay Kumar Kuhar sent Chidambaram to judicial custody till September 19 in the corruption case filed by the CBI linked to INX Media. The judge pronounced the order one hour after the conclusion of the brief hearing.
With Chidambaram in jail he can now apply for regular bail. Chidambaram, a Rajya Sabha MP, faced a fresh setback earlier in the day when the Supreme Court denied him anticipatory bail in the ED's money laundering case related to the media firm. Holding that the ED case is "not a fit case" to grant relief to Chidambaram, a bench of Justices R Banumathi and A S Bopanna said economic offences stand as a different class as they affect "economic fabric of the society" and "extraordinary power" of granting anticipatory bail has to be exercised sparingly in such cases. With the top court's order in its favour, the ED had the option to arrest Chidambaram any time but it decided against making its move. As a result, judge Kuhar had the option of releasing him on bail or remand the lawyer-politician in judicial custody.