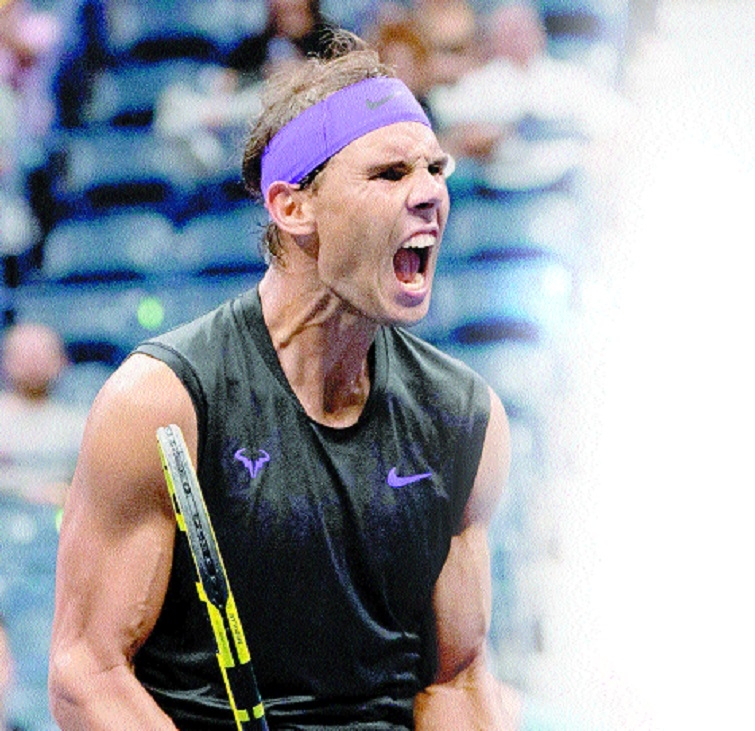 Rafael Nadal of Spain celebrates his victorry over Diego Schwartzman
NEW YORK :
The Spaniard storms into semis after beating Schwartzman
DIEGO Schwartzman may have been the smallest player in 25 years to reach the US Open quarter-finals but gave Rafa Nadal a big fight and forced the Spaniard to grind out a 6-4, 7-5, 6-2 win on Wednesday to reach the last four at Flushing Meadows. With Roger Federer and 2018 champion Novak Djokovic having already made exits, Nadal's path to a fourth US Open trophy has been cleared of familiar hurdles. But Schwartzman reminded Nadal that danger can lurk everywhere, even from an opponent he had beaten in all seven previous meetings and only lost two sets.
"I had some mistakes of course but I am super happy the way I accepted the challenge," said Nadal, who needed almost three hours to see off Schwartzman. "I just keep going point-by-point and here I am in the semi-finals and that is super important for me. It means everything." Schwartzman, who often trains with Nadal, had the second seed's full respect after brushing past sixth seed Alexander Zverev in the previous round. That caution was well placed as Schwartzman made the 18-time Grand Slam winner work for every point, with the Argentine fighting back from two breaks down in the opening two sets.
"He is one of the best players in the world and when he is playing well he is able to win against anybody," said Nadal. "Tonight was for me, a tough match and I am very happy for the victory." Nadal had come out firing on all cylinders showing the 5'7 (1.70m) tall Argentine no mercy as he raced to a 4-0 lead. But Schwartzman dug in and threw everything he had back at the three time U.S. Open champion to send a shock through Arthur Ashe Stadium when he swept the next four games to level the set. The Spaniard, who has also never shied away from a fight, held serve and then broke his opponent for a 1-0 lead.
Laver calls for Kyrgios ban
SYDNEY :
TENNIS great Rod Laver has called for Nick Kyrgios to be suspended from the ATP Tour over bad behaviour, saying his fellow Australian appears not to be learning from his mistakes. The explosive and temperamental 24-year-old Kyrgios has a history of notorious outbursts and is being investigated for potential rule violations after calling the ATP Tour "corrupt" during the US Open last week. "Whatever they have done hasn't worked so far, so maybe a suspension is the only answer," he told 'Sydney Morning Herald' on Wednesday. "I'm not sure he's learned anything from any of the things that have gone on."