Business Bureau
"Women have good interactive skills which are must for an entrepreneur. Apart from this, they also possess other qualities that make them successful entrepreneur and thus we must encourage them to become entrepreneur," said Dr Sanjiv Kumar, Divisional Commissioner of Nagpur.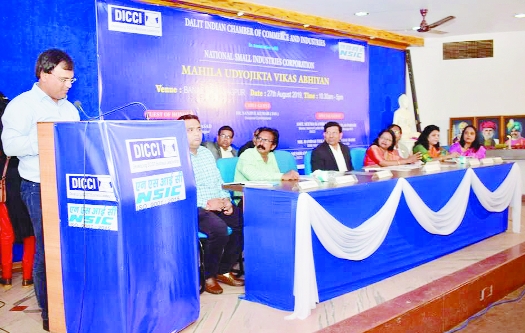 Dr Sanjiv Kumar, Divisional Commissioner of Nagpur, and others at the DICCI event.
"As women possess such qualities by birth, they must be encouraged to become entrepreneur. This approach will prove very beneficial for the society and the nation," he said while speaking as chief guest at a full day workshop on 'Women Enterpreneurship Development Campaign'. The workshop was organised by the Dalit India Chamber of Commerce (DICCI) Vidarbha Chapter and National Small Industries Corporation (NSIC) here at BANAE Hall.
Also present as guest were Seema Kamble, Mentor of DICCI National Women Wing; D Prasad, Deputy General Manager of Small Industrial Development Bank Of India (SIDBI); Ramdas Tekam, Deputy General Manager NSIC; Vilas Parate, Deputy General Manager Bank of India and VNMS Saibabu, Deputy General Manager of Bank of Baroda.
Dr Kumar further added that women belonging to SC/ST categories can take benefits of various schemes of the Government to start their own enterprise. "there are various schemes of the State and Central governments especially designed for women entrepreneurs of these categories. These scheme are made to support women entrepreneurs in all possible ways. They may avail financial assistance and also upgrade skills," he highlighted.
On the occasion women, who got licence for bulk LPG truck tanker, were felicitated at the hands of VNMS Saibabu.
The workshop also witnessed three technical sessions wherein Monika Borikar, Amitabh Meshram and Bhawana Janbandhu guided the participants.
Nischal Shelke, Western Region Head of DICCI, also guided at the session on marketing. Vijay Somkuwar spoke on business accounting. The seminar received overwhelming response form the participants. Gopal Wasnik, President DICCI Vidarbha Chapter, Vinni Meshram, Mentor of Maharashtra Women Wings, Kranti Gedam, President of DICCI Vidarbha Women Wing, Rajesh Dawande, Vice-President DICCI Vidarbha Region, Raj Mendhe, Mangesh Dongerwar, Asmita Bhat took hard efforts for the success of the event. The programme was conducted by Pramel Gaikwad.