Business Bureau
Highlighting the achievements of India Post Payments Bank (IPPB) Rarnchandra Jayabhaye, Postmaster General, Nagput Region on Friday said that the bank has crossed the milestone of 1 crore customers on August 29, 2019 within one year of launch of operations. "Apart from this, total accounts opened in Maharashtra Circle are at 8,48,021 out of which 86,058 accounts are in Nagpur Region," he said while interacting with the media persons on the side lines of the special event held here to mark completion of one year of the IPPB.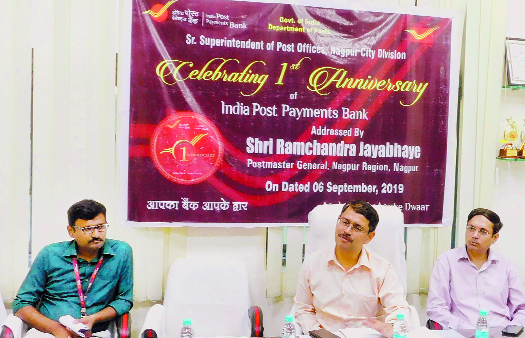 Rarnchandra Jayabhaye, Postmaster General, Nagput Region (left) and Pawankumar Dalmia, Director Postal Services, Nagpur Region, interacting with media persons on Friday.
He further said that the number of total funded accounts is 4,14,022 out of which 36,709 are in Nagpur Region. Similarly, POSA linked accounts are 99,808 (Nagpur Region - 141353 accounts), he added.
The celebration of first anniversary of India Post Payments Bank was held at Rajhans Hall, Nagpur GPO wherein Pawankumar Dalmia, Director Postal Services, Nagpur Region; T J V Sarma, Senior Superintendent Post Offices Nagpur City Dn; Shashin Rai, Assistant Director, Press Information Bureau, Nagpur, and several other officers.
India Post Payments Bank offers facilities like cheque book, mobile money transfer, Sweep in - Sweep out, NEFT/RTGS, IMPS, retail bill payments etc. POSB depositor can link his account, with IPPB accounts to avail more facility.
India Post Payments Bank (IPPB) has been setup with the vision to build the most accessible, affordable and trusted bank for the common man in India. The fundamental mandate of India Post Payments Bank is to remove barriers for the unbanked and underbanked and reach the last mile leveraging the vast reach of the postal network.
Since its nation-wide launch on September 1, 2018, IPPB has enabled more than 136,000 Post Offices to provide a complete suite of banking services, out of which 1,10,000 are in rural India, thereby increasing the rural banking infrastructure by almost 2.5 times. Over 195,000 Postmen and Gramin Dal Sevaks have been equipped with Smartphones and biometric devices to provide doorstep banking services.
With the launch of AEPS services, IPPB has now also become the single largest platform in the country for providing interoperable banking services to ANY BANK CUSTOMER, leveraging the last mile unprecedented reach of the Postal network. The enablement of Post Offices to provide banking services has brought down the average distance to a rural banking service point from 5-6 kms (rural bank branch infrastructure) to 2:5 km (average distance to a Post Office).
The sheer ability of the last mile doorstep banking service providers (Postmen/ GDS) to reach every village on an almost daily basis has brought down the distance to access banking services to 0 kms, thus truly capturing the essence of Aapka Bank, Aapke Dwaar.
The Jan-Dhan programme was instrumental in bringing millions of Indians into the fold of Financial Inclusion. There are over 34 crore PMJDY accounts in the country, of which 22 crore account holders are in rural India. IPP3 brings doorstep access to the 34 crore PMJDY accounts and gives a fresh impetus to inclusion of customers facing accessibility challenges in the traditional banking eco system.
During the course of the year, IPPB has also introduced unique solutions to make digital adoption easier at the last mile for the underbanked and unbanked and towards enabling an assisted banking model:- QR Card - A tangible account identity to customers which doesn't require them to remember account numbers and reducing data entry errors by agents; Assisted UPI - Removing the entry barriers for customers' on-boarding to UPI and facilitating UPI transactions even by those without a smartphone and a debit card. IPPB now brings the ability for the Department of Posts customers to enjoy interoperable banking services and connects them with the banking ecosystem. IPPB has digitized all the post office counters through a simple QR Code to accept electronic payments and also enabled direct payments into various post office saving schemes and purchase of postal products.
IPPB is committed to provide a fillip to a less cash economy and contribute to the vision of Digital India. India will prosper when every citizen will have equal opportunity to become financially secure and empowered.