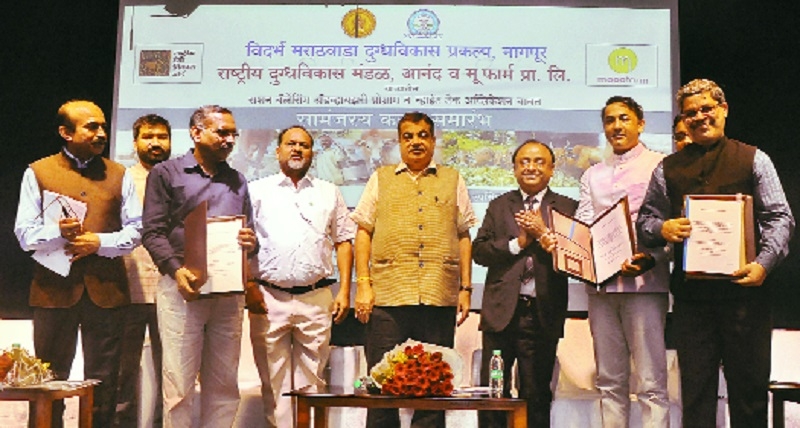 Nitin Gadkari, Minister Road Transport and Highways; Mahadev Rao Jankar, Maharashtra Minister of Animal Husbandry, Dairy and Fisheries, and others at the function. (Pic by Anil Futane)
Business Bureau :
NITIN Gadkari, Union Minister for Road Transport Highways, shipping and MSME announced the memorandum of understanding (MoU) between innovative dairy technology company MoooFarm, National Dairy Development Board (NDDB) and Government of Maharashtra in Nagpur on Saturday at a function held at Vanamati Hall. The collaboration announced is for Government's ongoing Vidarbha Marathwada Dairy Development Project (VMDDP) aimed to boost NDDB's 'Ration Balancing Programme through MoooFram's 'White Tech Revolution'.
Also present on the occasion were Mahadev Rao Jankar- Minister of Animal Husbandry Dairy and Fisheries, GoM; Lakshmi Narayan Mishra, Animal Husbandry Commissioner; Ravindra Thakre, Project Director VMDDP; Anoop Kumar, Principle Secretary Animal Husbandry, Dairy and Fisheries; Param Singh, Founder and Chairman of MoooFarm Pvt Limited; Arun Raaste, Executive Director NDDB and others. MoooFram's 'White Tech Revolution' aims at technologies the dairy farming industry by relying on big data analeptics to provide solutions for productivity and uniformity in cattle rearing and milk production. Speaking on the occasion Nitin Gadkari said, "We want to increase the income of the farmers, specially by increasing milk collection of farmers in the region.
The MoU singed today will open new corridors of development for Vidarbha region." He also elaborated on his plans for honey collection development and expanding reach of fisherman by introducing trawlers from 8 nautical miles to 100 nautical miles. Mahadev Jankar said that the MoU will multiple the farmers income as his cost of maintenance will come down. He also informed about the Maharashtra Government initiatives. "To increase the income of the milk producing farmers a tripartite agreement has been singed between VMDDP, NDDB and MoooFram for ration balancing advisory programme. This will bring a big change in couple of years," Jankar said. Arun Raaste, said that NDDB wants to increase collection and will promote all such initiatives. Ravindra Thakre made the opening remark while Prof Kirti Wankar conducted the proceedings of the programme. Dr Satish Raju, Director of Marathwada Milk Development Corporation proposed the vote of thanks.