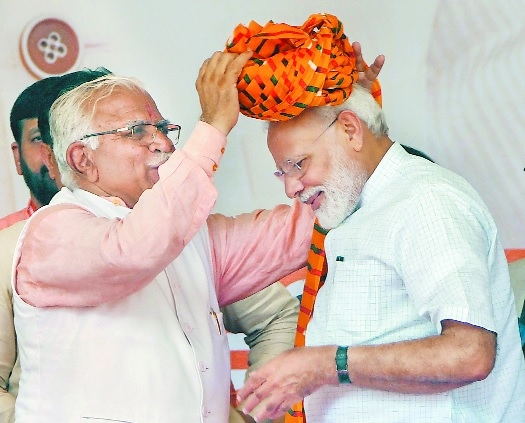 "DEVELOPMENT, trust and big changes in the country" have marked the 100 days of his Government, Prime Minister Narendra Modi said on Sunday, asserting that "we know how to take challenges head-on". Kicking off the BJP's campaign for Haryana Assembly election, Modi told a rally here that 130 crore Indians were the inspiration behind the Government's major decisions in various fields from farm sector to national security and took a swipe at the opposition parties, saying they are still "numb" from their Lok Sabhapolls debacle.
Referring to Jammu and Kashmir, Modi said the country and the world have witnessed in past 100 days that "India is challenging every challenge", whether it is decades old or is of future. "I have come here in Haryana at a time, when BJP-led NDA Government is completing 100 days. In 100 days, some people could not understand, some people are in such a bad state that they are numbed because of poll debacle," he said at the 'Vijay Sankalp' rally.
These 100 days have been of "development, trust and big changes in the country. These 100 days have also been of decisiveness, dedication, good intention". "Whatever big decisions were taken in past 100 days, the inspiration behind them were only 130 crore Indians," he said, adding, "because of your unprecedented support, the Government could take major decisions from farm sector to national safety and security." The Prime Minister said several important laws have been passed in recent months, including to deal with terrorism and for protection of rights of Muslim women. He said, a roadmap has been prepared to help different sectors with an intention to strengthen economy and referred to the "historic decisions" for strengthening the banking sector. "This is only the beginning and its benefits will be felt in the coming time," he said. "We know how to take challenges head-on. Be it the matter of Jammu, Kashmir and Ladakh or serious water crisis, 130 countrymen have started looking for new solutions," he said.
"We are into fulfilling the dreams and expectations of people of J&K and Ladakh with a new thinking. Because of your inspiration, such promises which were made during polls, have now been honoured," he said in an apparent reference to the abrogation of Article 370.
Modi said, the main priority of BJP Governments, be it at the centre or in the States, was to take care of the interests of poor people and referred to steps being taken to ensure better health care, clean drinking water, farmers' welfare and pension schemes. "We do not adopt a piecemeal approach but keep a big target in mind and take all round steps," he said. A roadmap which was never there under previous governments has been prepared for the health sector, he said. The Government is focusing on preventive health care services and working towards making health services cheaper and easy to avail, he said. Modi said programmes like Swachh Bharat, Yoga, Ujjwala, Ayurveda and Fit India movement were contributing to controlling diseases.
The Prime Minister said that it was his Government's commitment that each house will get piped water by 2024 and work in this direction had already been started. Lays foundation stones of Rs 2,000 crORE projects in Haryana: PRIME Minister Narendra Modi inaugurated and laid the foundation stone of several development projects worth Rs 2,000 crore here. Modi laid the foundation for Shri Sheetla Mata Devi Medical College in Gurugram, 576 housing units for police officials in Bhondsi, a mega food park in Rohtak and Integrated Command and Control Center in Karnal.
He inaugurated affordable housing complexes in Rohtak, the revival of Dulhera distributary and Integrated Command and Control Center in Faridabad. Addressing BJP's Vijay Sankalp Rally later, Modi said the works were already in progress on several other big projects worth Rs 2,500 crore which has been carrying out with the help of Central Governments in Haryana.
"Schemes worth Rs 2,000 crore have been inaugurated on Sunday including the opening of degree colleges in Nuh, Sirsa and Palwal for imparting higher education to the girls," he said. Modi launched the state government for its effort to empower women. "I am happy that apart from making Beti Pathao, Beti Bachao a success, the BJP Government is focusing on girl education. I congratulate Manohar Ji and his team," he told the gathering here.
He also congratulated the people who will be benefited by the housing schemes. "I congratulate the people who are going to celebrate Diwali in new homes," Modi said. The rally marked the culmination of Chief Minister Manohar Lal Khattar's 'Jan Ashirwad Yatra', which began last month.