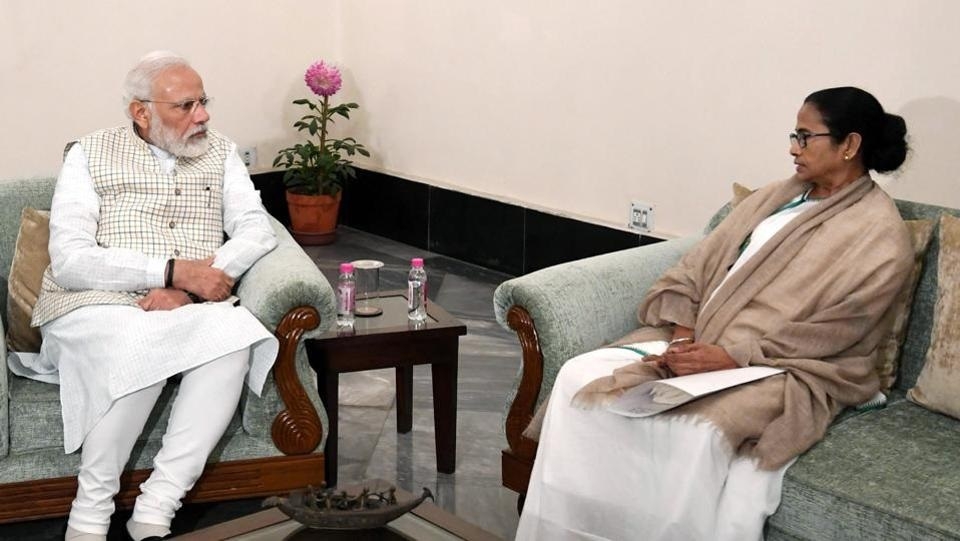 KOLKATA :
PRIME Minister Narendra Modi and West Bengal Chief Minister Mamata Banerjee met on Saturday at Raj Bhawan, amidst ongoing protests across the city against the amended Citizenship Act. The agenda of the meeting has not been disclosed.
The politically significant meeting between the two leaders took place a short time after the PM arrived in the city on a two-day visit. The meeting comes at a time when new Citizenship Law has emerged as the latest flashpoint in the state, with Banerjee's Trinamool Congress opposing the contentious legislation tooth and nail, and the Bharatiya Janata Party (BJP) pressing for its implementation.
PM Modi, who will be in Kolkata on Saturday and Sunday, is scheduled to attend the function marking the 150th anniversary of Kolkata Port Trust on January 12 and other programmes.
I told PM to withdraw CAA, NRC and NPR: Mamata
KOLKATA
WEST Bengal Chief Minister Mamata Banerjee on Saturday said she told Prime Minister Narendra Modi to rethink on the issue of amended Citizenship Act and urged him to withdraw CAA, NRC and NPR. Modi told her to come to New Delhi and discuss the matter, she told reporters after a meeting with the PM at Raj Bhawan. Banerjee termed her meeting with PM Modi as "courtsey visit" and said she has raised issues regarding the due financial assitance that the state is yet to receive.
"It was courtsey meeting. I told him about the Rs 28,000 crore that the state is yet to receive from the Centre. "I also told him that protest is going on across the country against CAA, NRC and NPR. I acquainted him that we are against CAA, NPR and NRC. I asked him that the Centre should rethink on the issues and withdraw CAA," she said. Mamata joins TMC dharna against CAA after meeting PM: MINUTES after holding a meeting with Prime Minister Narendra Modi, West Bengal Chief Minister Mamata Banerjee attended a sit-in demonstration organised by Trinamool Congress students' wing against the CAA and NRC.
The TMC supremo took centre stage among the agitating students who raised slogans against the amended Citizenship Act and the NRC at the Rani Rashmoni Road here, a few metres away from the Raj Bhavan, where she met the PM. She said at the dharna that CAA notification will be only on paper which her Government will not implement in the state.