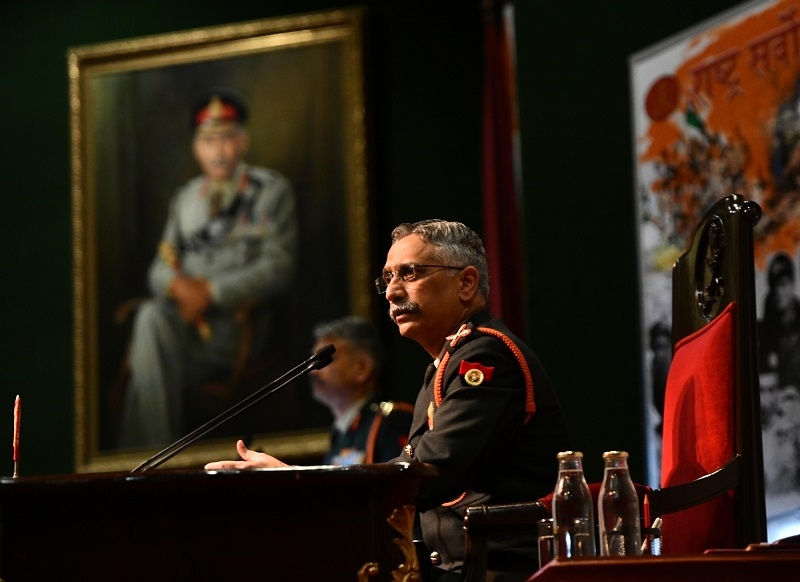 NEW DELHI :
WHILE maintaining that both Northern and Western frontiers are equally important for India, Army chief General M M Naravane on Saturday said whenever Government gives the go-ahead, his force is ready to take away Pakistan occupied Kashmir. Making it clear that accordingly rebalancing of deployment of the forces and weapons are being carried out, the General commenting on Pakistan occupied Kashmir said: "If Parliament wants that area should be taken we will definitely do so and action will be taken accordingly."
The Indian Army chief's comments came at the annual press conference, where he said there was a parliamentary resolution that entire erstwhile Jammu and Kashmir is part of India. Whenever the Government directs it will be done. Naravane stressed: "If that be the mandate so be it." Last year in October, the then Army chief and now the country's first Chief of Defence Staff Bipin Rawat had said that the PoK territory is illegally occupied by Pakistan.
"The territory is not controlled by the Pakistani establishment, it is controlled by terrorists. Pakistan administered Kashmir is actually a terrorist controlled country or a terrorist controlled part of Pakistan," Rawat stated. In September 2019, External Affairs Minister S Jaishankar had said that PoK is a part of India. "We expect one day we will have physical jurisdiction over it," he said. On August 5, 2019, Home Minister Amit Shah had asserted in Lok Sabha that PoK and Aksai Chin are part of Jammu and Kashmir and that Kashmir Valley is an integral part of the country. Moving a resolution for abrogating some provisions of Article 370 and the Jammu and Kashmir Reorganisation Bill 2019, Shah had said "Kashmir is an integral part of India, there is no doubt over it.
"When I talk about Jammu and Kashmir, Pakistan occupied Kashmir and Aksai Chin are included in it," he said. On border issue with China, India have had several rounds of talks. General Naravane said their priorities are to maintain peace and tranquility on the border. "We are conscious of the fact there are threats from the both side," he said. On his recent visit to Siachen, General Naravane said: "As far as land borders are concerned this is where (Siachen) the two countries -- (China and Pakistan) are the closest. So the chance for collusivity is the most. Here and in Shaksgam Valley."
About the China border, he said: "We have to balance our requirement. On northern border we are going in for capacity building, roads, habitats, storage for weapons by moving advanced weapons towards eastern side." Will deal with situations militarily, says Army Chief on killing of two civilians in Poonch: A DAY after two unarmed civilians were killed by the Pakistani Army in Poonch district of J&K, Army Chief General Manoj Mukund Naravane said on Saturday that they would deal with the situation appropriately in a military manner.
"We do not resort to such barbaric activities and fight as a very professional force. We will deal appropriately with such situations in a military manner," the Army Chief responded to a question by ANI on the same. Two civilians, identified as Mohd Aslam and Altaf Hussain were killed, and two others were critically injured after the Pakistani Army carried out an attack on them in the Poonch sector. Indian Army sources said that the Army carried out an attack on five unarmed civilians who crossed over fencing on LoC in the Poonch sector but were within Indian territory.
Sources in Poonch said the civilians had crossed the LoC fencing for grazing their cattle when they were attacked by the Pakistan Army. The LoC in recent times has seen frequent ceasefire violations by the Pakistani side.
'Six Apache to be deployed on Pakistan border'
NEW DELHI :
Army chief General Manoj Mukund Naravane said that six Army Apache attack choppers would be given to a unit on the western borders where there is a threat from armoured columns. "Six Army Apache attack choppers would be given to an Army unit on the western borders from where there is a greater threat from armoured columns," Naravane said.
Creation of CDS a 'very big step' towards integration of forces: Army chief
NEW DELHI :
ARMY chief General M M Naravane on Saturday termed the creation of the post of Chief of Defence Staff a "very big step" towards integration of the three forces and said the Army will ensure its success. He also asserted that allegiance to Constitution should guide "us in all times". "Justice, liberty, equality and fraternity as enshrined in Constitution must guide us," he said. Addressing a press conference, General Naravane said the focus of training will be on preparing the Army for future wars which will be network-centric and complex.
"We are prepared to deal with challenges along northern border," the Army chief said when asked about China enhancing military infrastructure. "We are initiating rebalancing of preparedness along Northern border, including moving advanced weapon systems," he said. He said the focus will be on integration within the Army and among the three Services. "The formation of the CDS and the creation of a department of military affairs is a very big step towards integration.
We on our part will make sure that this is a success," the Army chief said. "Integration will also be within the Army and the integrated battle group is just one example of that. But I also want to assure everyone that in this process of integration we will take everyone along. Nobody will be left behind," he said. The Army chief's remarks come days after General Bipin Rawat took over as India's first Chief of Defence Staff with a mandate to bring in convergence in functioning of the Army, the Navy and the Indian Air Force and bolster the country's military prowess. "Indian Army is a professional force, conducts itself in most professional, ethical manner in peace, on LoC and in combat," Naravane said.