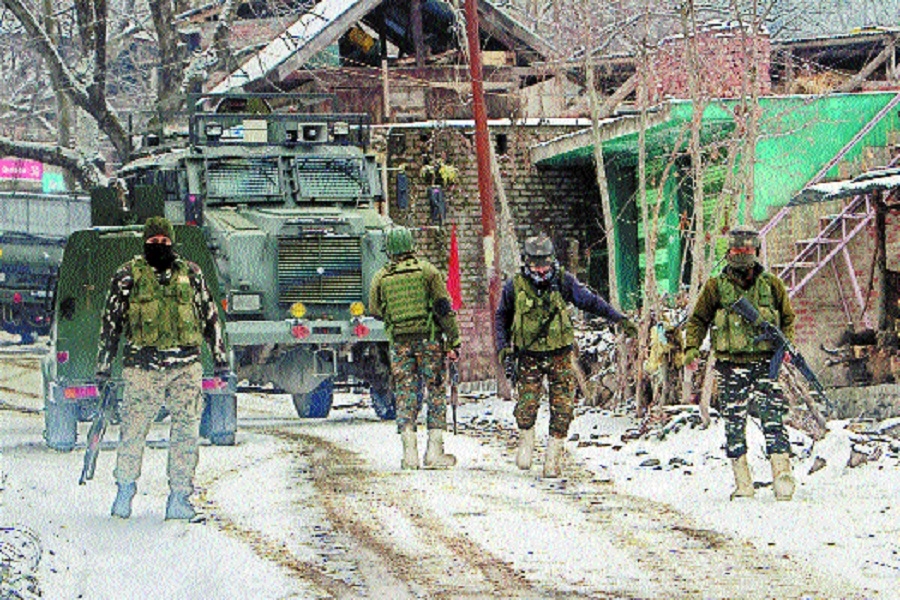 Army jawans rush near encounter site at Gulshanpora area of Tral in South Kashmir on Sunday. (ANI)
THREE "most wanted" Hizbul Mujahideen terrorists were killed on Sunday in an encounter with security forces in the Tral area of Jammu and Kashmir's Pulwama district, police said. The terrorists -- Umer Fayaz Lone alias "Hamad Khan" of Seer village, Faizan Hamid of Mandoora and Adil Bashir Mir alias "Abu Dujana" of Monghama -- were wanted for their complicity in terror crimes, including attacks on security establishments and civilian atrocities, a police spokesman said.
He said the trio were affiliated with the proscribed Hizbul Mujahideen terror outfit and were trapped during a cordon-and-search operation jointly launched by police and security forces on a specific intelligence input in the Gujar Basti Gulshanpora area of Tral.
As the forces were conducting searches, the militants fired at them, triggering an encounter, resulting in their killing, the spokesman said. According to police records, the spokesman said, Lone had a long history of terror crimes since 2016 and was involved in planning and executing several terror attacks in the area. "He was part of groups responsible for carrying out a series of terror attacks and many other civilian atrocities besides killing of policeman Haleem Kohli of Gutroo Bangdar Tral and killing of civilian Mehraj Din Zarger of Tral," he said, adding he was wanted in 16 cases registered at Tral police station and two cases at Awantipora police station.
1 of the 2 civilians was beheaded by Pak Army
POONCH :
IN A gruesome revelation, it has come to light that one of the two unarmed civilians killed in an attack in Poonch sector along LoC two days ago by Pakistan Army's Border Action Team (BAT), was beheaded, Government sources informed. Two unarmed civilians, Mohd Aslam and Altaf Hussain, were killed while two others were seriously injured in an attack by the Pakistani Army on Friday along the Line of Control. Indian Army sources said Pakistan Army carried out the attack on five unarmed civilians who crossed over fencing on LoC in the Poonch sector but were within Indian territory.
Sources in Poonch said the civilians had crossed the LoC fencing for grazing their cattle when they were attacked by the Pakistan Army. Heavy firing by Pakistan also took place in the Degwar and Gulpar sectors of Poonch district today. The LoC in recent times has seen frequent ceasefire violations by the Pakistani side.