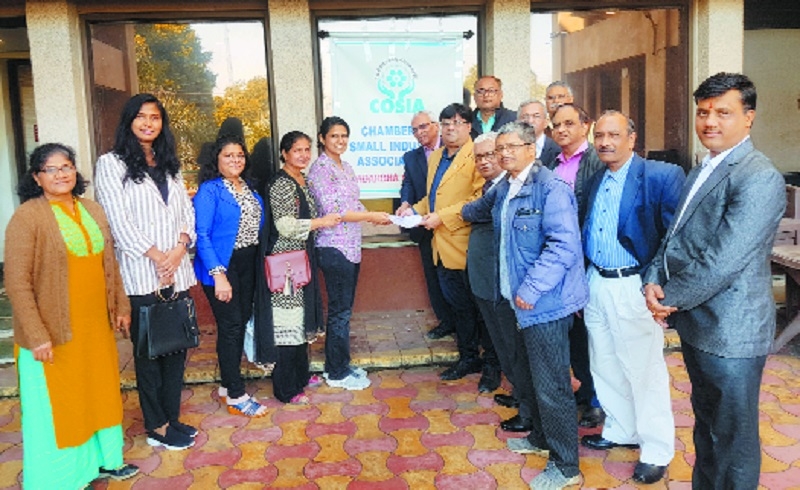 Mayank Shukla, CA Julfesh Shah and Ninad Jaywant presenting an appeal letter to Kruti Thakkar of EDII-Ahmedabad. Representatives of various bodies are also seen.
Business Bureau ;
The Vidarbha Chapter of Chamber of Small Industry Associations (COSIA) recently conducted an interactive meeting of various industrial associations of Nagpur with Entrepreneurs Development Institute of India (EDII) Ahmedabad. The meeting was convened by Chairman Vidarbha Chapter of COSIA Mayank Shukla along with core committee member CA Julfesh Shah. While addressing the representatives of local associations, Kruti Thakkar, inchage Maharastra region of EDII, said that EDII is an organisation working for the Development of industries in MSME sector, through the CSR funds of corporate sectors.
They carry out activities by way of promoting Health Check Up Camps especially for industry labour, sensitization industry related awareness, and labour safety related programmes. Shukla said that Indian MSME landscape is vast with varying contours, and in order to ensure its progression, there has to be coherent strategies and a conducive environment for growth and expansion.
EDII has taken the onus of such developmental tasks by directly getting involved in designing and executing projects and expanding their outreach by replicating efforts through series of institutions, across states. Shah appreciated EDII for ensuring sustenance of efforts of these organizations by instituting cadres of resource persons. Shah further said that MSMEs have added a distinct pace to economic growth, generating employment, augmenting cross border trade and nurturing entrepreneurship.
"India has taken some major steps to strengthen this sector. However, these businesses generally operate on small budgets and face the threat of immediate downfall amidst crises. During such times, they find it difficult to institute capital-intensive measures to bail themselves out of crises and thus very often nose-dive sharply. To avoid such ambiguities, it is important to make available professional services that guide them through their journey and ensure that they enhance their competitiveness and productivity," he said. Ninad Jaywant, National Secretary General, Mayank Shukla and Shah presented an appeal letter to EDII to promote and streamline various initiatives for development of MSME in Vidarbha region. Representatives of various industries associations like MIDC Industries Association, Laghu Udyog Bharti SARATHI, Vidrbha Plastics Industry Association, Electronic Zone Association, VIA Ladies Entrepreneurs Wing, Indian Institute of Foundry (Vidarbha), etc. were present during the meeting.