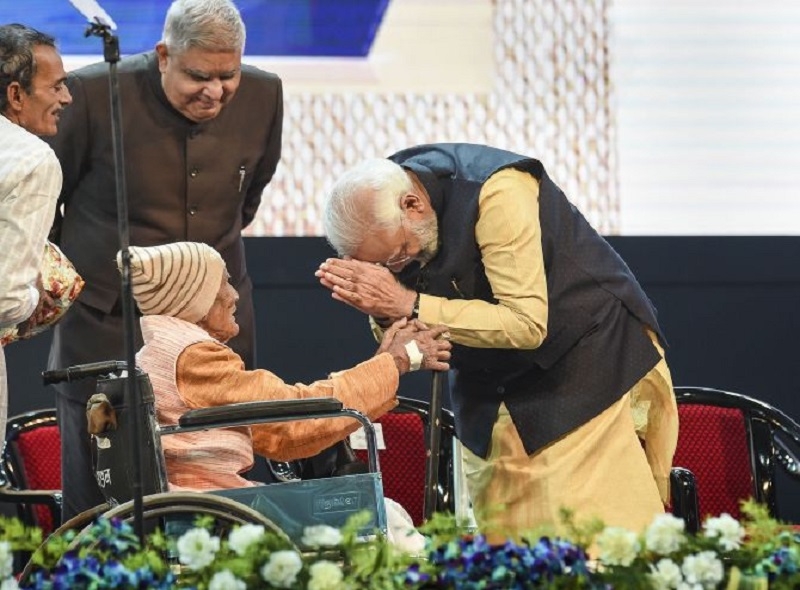 Prime Minister Narendra Modi greets one of the oldest pensioners of the Kolkata Port Trust, 105 years old Nagina Bhagat as West Bengal Governor Jagdeep Dhankhar looks on, during an event to celebrate 150 years of Kolkata Port Trust on Sunday. (PTI)
KOLKATA :
PRIME Minister Narendra Modi on Sunday rechristened Kolkata Port Trust after Jan Sangh founder Syama Prasad Mookerjee, drawing criticism from the Opposition camp, which said he was more of a "name-changer" than a "game-changer". Modi, while addressing the 150th anniversary programme of Kolkata Port Trust, invoked Mookerjee and B R Ambedkar and said their contributions had led to the development of the country post Independence, but suggestions made by them were not implemented after they resigned from the Government.
"I announce that the Kolkata Port Trust will now be known as Dr. Syama Prasad Mookerjee Port. He was the father of industrialisation in India, a man who made sacrifices for one nation and one Constitution," Modi said, while addressing the ceremony at Netaji Indoor Stadium here. Hinting at a change of guard in 2021 Assembly polls, he said the West Bengal Government was not implementing Central schemes as it did not help "syndicates" (cartels), but people in this State would not have to miss out on the benefits for long. West Bengal Chief Minister Mamata Banerjee, who was scheduled to attend the port trust programme, was conspicuous by her absence. None of the Trinamool Congress Ministers were also present at the event.
"When there is no syndicate or cut money involved, why would someone implement Central Government schemes? I don't know whether they (State Government) would give approval for Central schemes such as Ayushman Bharat Yojana, PM Kisan Samman Nidhi, but if they do, people of Bengal will be able to enjoy their benefits," he said. The Prime Minister also claimed that he was pained to see that the poor in the State was not getting the benefits of the Centre's welfare schemes. "Eight crore farmers across the country are getting benefited (due to the Central schemes).
But there will always be pain in my heart (about the schemes not being implemented in Bengal). I will always pray to god for the welfare of farmers and poor patients. May god give them (Bengal Government) good sense... "However, I have a feeling that the people of West Bengal will not remain deprived of Central schemes for long," he insisted. Modi, who released a commemorative stamp on the occasion, said his Government at the Centre was making every possible effort to develop Bengal, its poor, underprivileged and exploited sections. He also inaugurated and laid foundation of infrastructure projects for the expansion and modernisation of the Kolkata Port. "Development of waterways has improved Kolkata Port Trust's connectivity with industrial centres in east India, made trade easier for our neighbouring countries, Bhutan, Myanmar and Nepal. "Our country's coasts are gateways to development, the (Central) Government has started the Sagarmala programme to improve connectivity," Modi added.
CAA brought to world's notice Pak's torture of minorities: Modi
KOLKATA :
MOUNTING a strong defence of the new Citizenship Law, Prime Minister Narendra Modi on Sunday said the dispute that has arisen over it has made the world take notice of the persecution of minorities in Pakistan, which now has to answer for its "acts of oppression". Modi deplored that a section of the youth is being "misguided" over the Citizenship (Amendment) Act, which is aimed at giving and not taking away anybody's citizenship. "Had we not amended the Citizenship Law, this 'vivaad' (dispute) would not have arisen. Had this dispute not arisen, the world would not have known the kind of atrocities that were perpetrated on the (religious) minorities in Pakistan. "....How human rights have been violated. How the lives of our sisters and daughters were ruined.
It's the result of our initiative that Pakistan will have to answer for its acts of oppression against the minorities there," he said. "Ramakrishna Mission will not comment on PM's speech. We are strictly an apolitical body. We cannot comment on the PM's speech on CAA. We have come here after leaving our homes to answer to eternal call. We do not respond to ephemeral call," Ramakrishna Math and Mission General Secretary Swami Suvirananda, told reporters. "We are above politics. To us Narendra Modi is the leader of India and Mamata Banerjee is the leader of West Bengal," he said, adding "we are inclusive as an organisation which has monks from Hindu, Islam, Christian (faiths).
We live like more than brothers of same parents". As Modi addressed the gathering, activists of the Congress and the Left continued their protest on the second day of his Kolkata visit, notwithstanding his repeated clarification that the new Citizenship Law will not adversely impact any Indian citizen. The protesters sat overnight at Esplanade in the heart of the city, carrying placards that read 'Modi go back' and 'Down with BJP'. In his speech, Modi invoked Mahatma Gandhi and said even the Father of the Nation had favoured Indian citizenship for those fleeing religious persecution and that his Government has only delivered on the wishes of freedom fighters.
"The CAA is not about taking away citizenship, it is about giving citizenship. Today, on National Youth Day, I would like to tell this to the youth of India, West Bengal, North East that this is not an overnight law for giving citizenship. "We all must know that any person of any religion from any country of the world, theist or atheist, who believes in India and its Constitution, can apply for Indian citizenship through due process. There's no problem in that," he said.