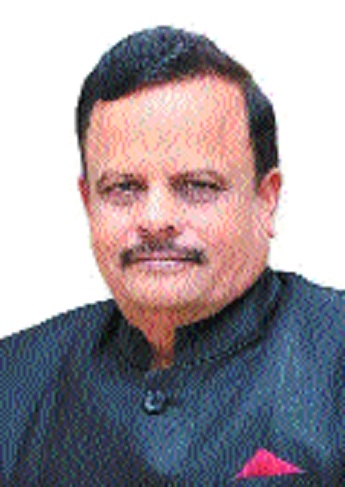 Dr Pramod Yeole
By Vikas Vaidya :
He is the first person from Maharashtra who has been appointed as Chairman of prestigious All India Board of Pharmaceutical Education by All India Council for Technical Education (AICTE). He is known for introducing new system in a creative manner. As a Pro-Vice Chancellor of Rashtrasant Tukadoji Maharaj Nagpur University (RTMNU) with the smart use of technology brought examination reforms that made all the changes.
Now, he is Vice-Chancellor of Dr Babasaheb Ambedkar Marathwada University, Aurangabad. Appoin-tment as Chairman of Pharma-ceutical Education Board has added another feather to his cap. Dr Pramod Yeole wants to provide equivalence to Pharmaceutical Science with Medical Science. After assuming this additional responsibility, Dr Yeole talked to 'The Hitavada' on several aspects of Pharmaceutical Science. "In abroad, Medical Science and Pharmaceutical Science work jointly. Expert in Medical Science make diagnosis while experts in Pharmaceutical Science prescribe medicines.
As we see specialist doctors like paediatricians, gynaecologists, geriatrics, sports medicine, so there are such specialities in Pharmaceutical Science too. Pharmaceutical Science, in foreign countries, get treatment equivalent to Medical Science. In India, however, we failed to get that status because our curriculum is not upgraded," pointed out Dr Yeole. The functions of the Board includes regulating education of Pharmaceutical Science, perspective plan of examination, suggesting some policy change if needed, co-ordinating with pharmaceutical companies. Elaborating the ill-effects of not upgrading the courses in this branch, Dr Yeole said, "Pharmaceutical Science has so much potential that it can create employment and self-employment too.
But a section of the society has defamed pharmaceutical industry because of which it has lost its credibility. In most of the other countries Pharmaceutical Science has the status of medical science due to which the pharmacy degree holder fetches attractive salary. In India everything is done by doctors alone. Rest of the part like counseling, guidance, how the medicine is to be consumed every responsibility lies with pharmacists." When Dr Yeole expresses regret about not having Pharmaceutical Science equivalence to Medical Science, he also knows the limitations of curriculum of the branch he belongs. After doing post graduation and subsequent degrees in Pharmaceutical Science, Dr Yeole worked as a teacher and then as Principal at Wardha's Institute of Pharmaceutical Education and Research. After long teaching experience, and working in several bodies like academic council, Senate, Management Council, he became Pro-Vice Chancellor and now Vice-Chancellor.
"At this juncture, pharmaceutical industry is in need of not one, two but 70,000 graduates. India produces more graduates than this number. Unfortunately, industries prefer science graduates over pharmacy degree holders. In last some years, India witnessed mushrooming of pharmacy colleges. Increasing colleges will not resolve the issue. This can be stopped if strict norms are introduced. We are not supposed to produce quantity. We should create employable pharmacy graduates. Secondly, in my opinion, Diploma courses in this branch have no value and they should be stopped. Graduates can give justice to this profession," asserted Dr Yeole.
Secondly, pharmacy courses are controlled by two bodies-- Pharmacy Council of India (PCI) and All India Council for Technical Education (AICTE). This dual control is one of the factors responsible in hampering the growth of this branch. The institutes running pharmacy courses are the major sufferers. Problem of this dual control is, both bodies have different norms. They run on different acts. PCI Act came into being in 1948 while AICTE Act was introduced in 1998. Something should be done to remove this duality. This is what Dr Yeole feels. As his appointment is of three years, he feels some good changes can be brought to benefit the people of this faculty.