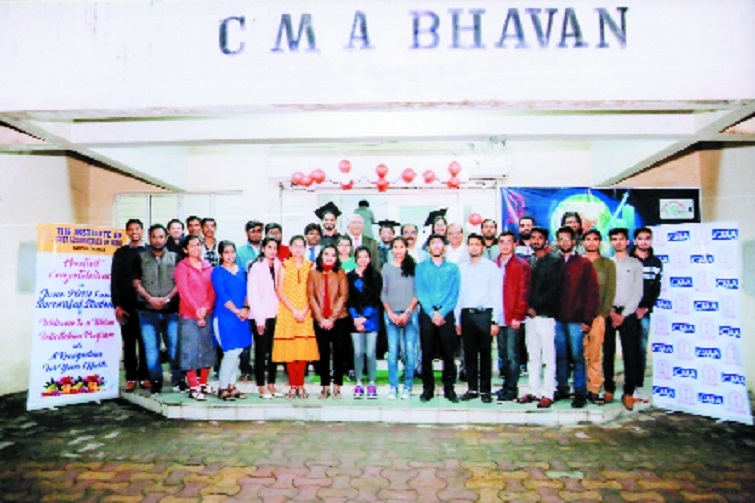 Business Bureau :
THE Institute of Cost Accountants of India, Nagpur Chapter organised a programme to felicitate the successful students for the term January to June 2019 in foundation, intermediate and final examination of CMA. There were 58 students who cleared the CMA examination of the Institute of Cost Accountants. A grand felicitation ceremony was recently organised at 243/3, CMA Bhawan, Laxminagar, Nagpur Chapter premises for their excellent performance in the examination.
Fifty eight students and their parents enthusiastically participated in the felicitation programme. On the occasion, certificate and memento of appreciation were conferred on the successful students. Oral coaching classes for the term January to June 2020 for all the CMA groups were also inaugurated. CMA P V Bhattad, Past President, ICAI, CMA Shriram Mahankaliwar, RCM, WIRC, ICAI, Director of Studies, CMA P S Patil, Secretary, National Commission for Certifying Agencies (NCCA), CMA V V S Murty and CMA Renu Kulkarni, head of ladies wing were present.
The felicitation ceremony began by lighting the tradition lamp. This was followed by a display of detailed journey from student to becoming a member of ICAI on video screen. All the faculties of Nagpur Chapter of Cost Accountants CS S V Joshi, CMA Renu Kulkarni, Dr Aditi Sontakke, CS Namita Buche, CMA Sonal Bakshi, CMA Pushparaj Kulkarni and CMA Nutan Thakkar were also felicitated for their continuous guidance to the students. Director of Studies CMA P S Patil said, "Professional excellence goes beyond passing the examination. It includes the ability to cope with the changing world. To be well equipped for future requirements and be focused on all round development.
Chairman NCCA CMA Arunasis Basu advised students to be regular in the class and emphasised on discipline, devotion and dedication in studies. WIRC Member CMA Shriram Mahakaliwar emphasised upon soft skill development and to seek practical knowledge. He said that students must take full benefit of the studies conducted at the Nagpur Chapter. Those who were registered earlier can attend the classes without any fees. He also suggested ways on how to study and get the success in examination. The programme was very well attended by more than 58 pass out students along with their parents. Prominently present in the programme was CMA Shriram Mahankaliwar, RCM, CMA P S Patil, Director of Studies and CMA V V S Murty, Secretary, Nagpur Chapter. The programme was conducted by CMA Renu Kulkarni, CMA Aditi Sontakke and staff members.