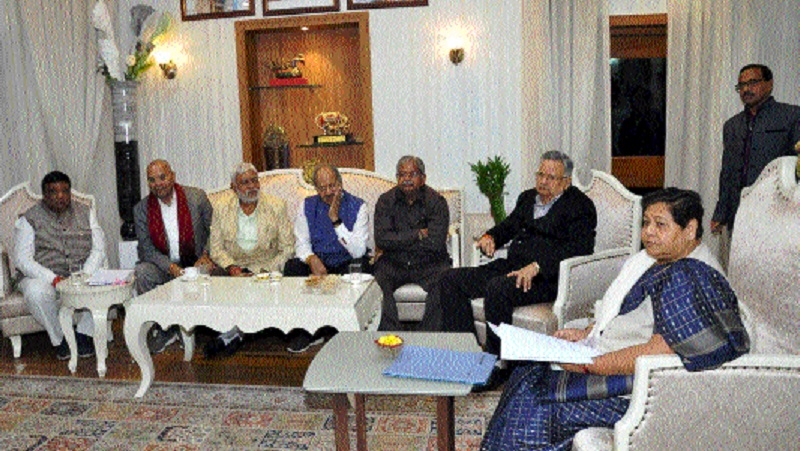 Staff Reporter :
RAIPUR,
THE Bharatiya Janata Party (BJP) Legislative Party has opposed the special one-day session notified by Chhattisgarh Legislative Assembly, scheduled for January 16, 2020. The BJP alleged that the State Government is functioning against the parliamentary traditions. The Chhattisgarh Legislative Assembly had notified a special one-day session to ratify the Constitution (126th Amendment) Bill, 2019, passed by the Parliament in December 2019.
The Special Session – Fifth Session of the Fifth Chhattisgarh Legislative Assembly, will be held on Thursday, January 16, 2020. The Special Session which was notified on Thursday, will commence with the address of Governor Anusuiya Uikey which will be followed by holding discussions on the resolution for ratification of Constitution (126th Amendment) Bill, 2019. Thereafter, the House will be holding discussions on Thanks Giving Proposal of Governor's Address.
Former Parliamentary Affairs Minister Ajay Chandrakar has stated that in the parliamentary history this kind of business was not taken in a single day. He said tabling amendments to the Governor's Address is Opposition's right. As per process, the Opposition submits its amendments which is further checked by the Assembly Secretariat followed by amendments and its subsequent publication and distribution among the members. Then only discussions on Thanks Giving Proposal of Governor's Address takes place. It seems that all these procedures cannot by carried out subsequently in a day, added Chandrakar. The State Government is all set to carry out Governor's Address during this special session.
The Opposition termed that it is for the first time in the parliamentary history that a State Government is holding Governor's Address twice in a year. As per parliamentary tradition, Governor's Address takes place during the first session of the new financial year, i.e., Budget Session commences with Governor's address. A BJP parliamentary party delegation, led by BJP Legislative Party Leader Dharamlal Kaushik, former Chief Minister Dr Raman Singh, Brijmohan Agrawal, Ajay Chandrakar, Nankiram Kanwar, Shivratan Sharma, Narayan Chandel, Punnulal Mohle, Prem Prakash Pandey, Ranjana Sahu, Motilal Sahu, Vidyaratan Bhasin, Damrudhar Pujari and Rajnish Singh, called upon Governor Anusuiya Uikey and Speaker Dr Charan Das Mahant to register their protest.