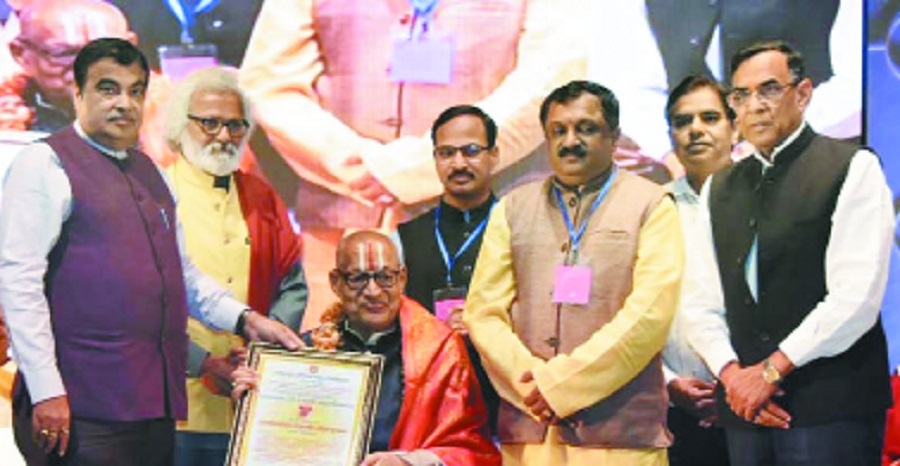 Business Bureau :
SHREE Baidyanath Ayurved Bhawan Pvt Ltd every year in the memory of its founder late Vaidya Pt. Ramnarayan Sharma along with Kavikulguru Kalidas Sanskrit University, Ramtek gives awards 'Mahakavi Kalidas Sanskrit Varti National Awards'. The award is given to the personalities devoting their lives for promoting, developing and innovating new things in Sanskrit language.
The award is to recognise the great work of the scholars of Sanskrit and motivate others to take inspiration from their work. For the year 2019, Dr Devisahay Pande, Ayodhya (Uttar Pradesh), Prof Kandadey Ramanujcharya, Hyderabad (Telangana) and Dr Manishastri Dravid, Chennai (Tamil Nadu) were selected. The three awardees were given a cash prize of Rs 50,000 and citation at the hands of Nitin Gadkari, Union Minister for Road Transport & Highways, Shipping and MSME. Also present on the occasion were Prof Shrinivas Warkhedi, Vice-Chancellor, Kavikulguru Kalidas Sanskrit University, Ravindra Thakre, District Collector, Suresh Kumar Sharma, Director Baidyanath, Jogendra Kawade, MLC, Ramesh Sharma, Principle Vaid-Baidyanath.
It was the ninth award ceremony. Prof Devisahay is also famous as 'Deep', is learned of Vedas, Philosophy and literate. His work on all four Vedas, has been published by 'Choukhamba' publication. Prof Kandadey Ramanujcharya is a laureate in Vedas, literature, Law and is a well recognised national Sanskrit Scholar. Vedantacharya Dr Manishastri Dravid is Assistant Professor at Madras Sanskrit College. He has published more than 10 books.