TEHRAN :
Iran's President Hassan Rouhani met Qatar's Emir Sheikh Tamim and agreed on de-escalation and dialogue.
QATAR'S Emir Sheikh Tamim bin Hamad Al Thani met Iran's President Hassan Rouhani, the country's supreme leader Ayatollah Khamenei and other senior leaders on Sunday and agreed that de-escalation and dialogue were the only solutions to rising tensions in the Middle East between the United States and Tehran. Qatar and Iran agreed that de-escalation was the "only solution" to regional tensions, 'Al Jazeera' quoted Sheikh Tamim as saying after the meeting with Rouhani.
"This visit comes at a critical time in the region, and we agreed with the brothers and with His Excellency the President that the only solution to these crises is de-escalation from everyone and dialogue," he told a news conference.
"Dialogue is the only solution" to resolve the crisis, the Sheikh added. The meeting came amid heightened tensions in the Gulf following the US assassination of top Iranian commander Qassem Soleimani in Baghdad and Iran's retaliatory missile strikes on US targets in Iraq. Sheikh Tamim was the first national leader to come to Iran since Soleimani's killing on January 3 in an American drone strike. Qatar is one of a few countries in the region that maintains a close relationship with Washington and Tehran, with which it shares the world's largest gas field.
According to media reports, the two officials also discussed the latest developments in the region, "especially the events in Iraq as well as ways of calm to maintain collective security of the region." Last Wednesday, Sheikh Mohammed said Qatar was closely following developments in Iraq and seeking to coordinate with friendly countries to reduce tensions.
"We seek through a series of communications to consult and coordinate with friendly and brotherly countries to calm and reduce escalation," he wrote on Twitter. 2 Iraqi journalists shot dead while covering anti-government protests: AN Iraqi journalist and his cameraman were shot dead by unknown gunmen last week while covering anti-government demonstrations in Iraq's southern city of Basra, officials said. On Saturday, the US Embassy in Baghdad confirmed the "assassinations" of Ahmen Abdel Samad, 39, a correspondent with Iraqi cable news outlet Dijla TV, and cameraman Safaa Ghali, 37, in a statement cited by Fox News. A group of armed men in a 4x4 vehicle approached their car and opened fire, witnesses told 'Al Jazeera'.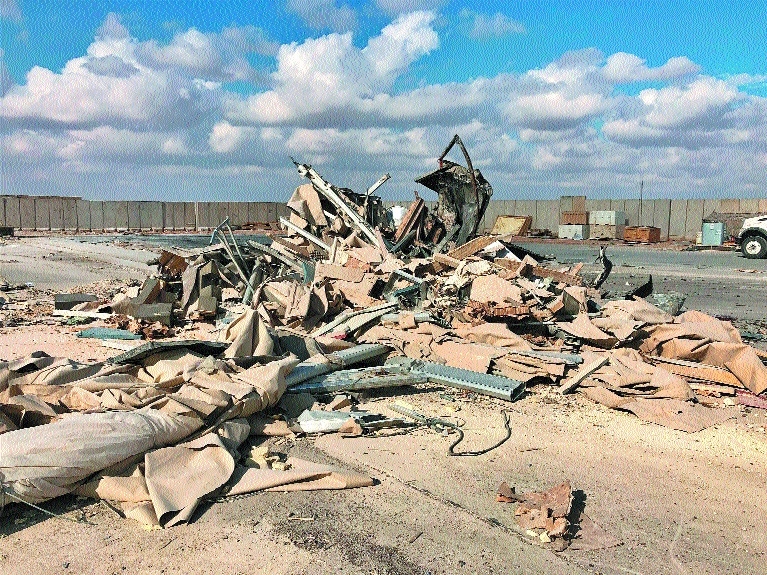 US condemns latest missile attack on Iraqi base: Pompeo
WASHINGTON :
US SECRETARY of State Mike Pompeo said on Sunday he was "outraged" by another missile attack on an Iraqi airbase where US forces have been stationed, as neighbouring Iran signalled a wish to de-escalate regional tensions. "Outraged by reports of another rocket attack on an Iraqi airbase," Pompeo tweeted. "These continued violations of Iraq's sovereignty by groups not loyal to the Iraqi Government must end." There was no immediate claim of responsibility for Sunday's rocket attacks. The US has previously blamed such attacks on Iran-backed groups in Iraq.
Iraq warns of 'collapse' if Trump blocks oil cash
BAGHDAD :
IRAQI officials fear economic "collapse" if Washington imposes threatened sanctions, including blocking access to a United States-based account where Baghdad keeps oil revenues that feed 90 per cent of the national budget. US President Donald Trump was outraged by the Iraqi Parliament voting on January 5 to oust foreign forces, including some 5,200 American troops, who have helped local soldiers beat back jihadists since 2014. If troops were asked to leave, he threatened, "we will charge them sanctions like they've never seen before."
The US then delivered an extraordinary verbal message directly to Prime Minister Adel Abdel Mahdi's office, two Iraqi officials told AFP. "The PMO got a call threatening that if US troops are kicked out, 'we' -- the US -- will block your account at the Federal Reserve Bank in New York," one official said. Parliament's vote to oust the troops was triggered by outrage over a US drone strike on Baghdad two days earlier that killed top Iranian general Qasem Soleimani and his Iraqi right-hand-man, Abu Mahdi al-Muhandis. The Central Bank of Iraq's account at the Fed was established in 2003 following the US-led invasion that toppled ex-dictator Saddam Hussein.
Under United Nations Security Council Resolution 1483, which lifted the crippling global sanctions and oil embargo imposed on Iraq after Saddam's invasion of Kuwait, all revenues from Iraqi oil sales would go to the account. Iraq is OPEC's second-biggest crude producer and more than 90 per cent of the state budget, which reached USD 112 billion in 2019, derives from oil revenues. To this day, revenues are paid in dollars into the Fed account daily, with the balance now sitting at about USD 35 billion, Iraqi officials told AFP. Every month or so, Iraq flies in USD 1-USD 2 billion in cash from that account for official and commercial transactions. "We're an oil-producing country. Those accounts are in dollars. Cutting off access means totally turning off the tap," the first Iraqi official said.