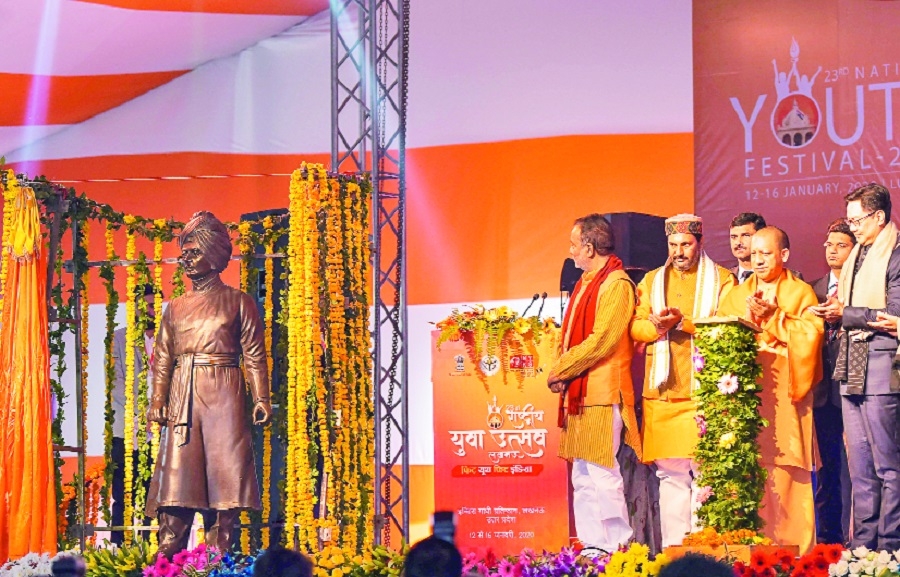 Uttar Pradesh Chief Minister Yogi Adityanath inaugurates the statue of Swami Vivekananda during 23rd National Youth Festival in Lucknow on Sunday. Minister of State (Independent Charge) Kiren Rijiju is also seen. Modi congratulated the youths via video
conference. (PTI)
LUCKNOW :
RECALLING Swami Vivekananda's conviction in youths' power, Prime Minister Narendra Modi on Sunday exhorted the young generation to "reveal that power", while lauding them for leading "new stream of innovations" in the country. Mentioning some of his Government's most crucial steps, including annulment of Article 370 of the Constitution and surgical and air strikes against Pakistan, the Prime Minister said "Our Government is with young spirits and dreams."
Addressing the inaugural session of the five-day National Youth Festival here on Swami Vivekananda's 157th birth anniversary through video conference, Modi congratulated the youths. Recalling Swami Vivekananda's observation that all power lies within youths, the Prime Minister exhorted youths, saying "Reveal that power. Believe in it that you can do everything." "I am happy that today's youth is understanding this very well and moving forward by believing in himself," he said. , while also urging youths to buy indigenous products.
Describing Vivekenanda's birthday as "the day to take new inspiration and resolve for every Indian youths who are building new India through their ability", Modi said, "In form of Swami Vivekananda, India got such an energy on this day, which is still keeping our country energetic." "Swami Vivekananda saw India's youth power as a strong link to its glorious past and future," he said. Noting some recent crucial developments in the country, the Prime Minister said Article 370 has been abrogated in J&K, Ramjanmabhoomi dispute, lingering for hundreds of years, has ended and a law against triple talaq has been made. "The CAA is a fact.
By the way, there was also a belief in the country that one has to sit silently when a terrorist attack takes place. Today we also see surgical strikes and air strikes. Our Government is with young spirits and dreams," he said.