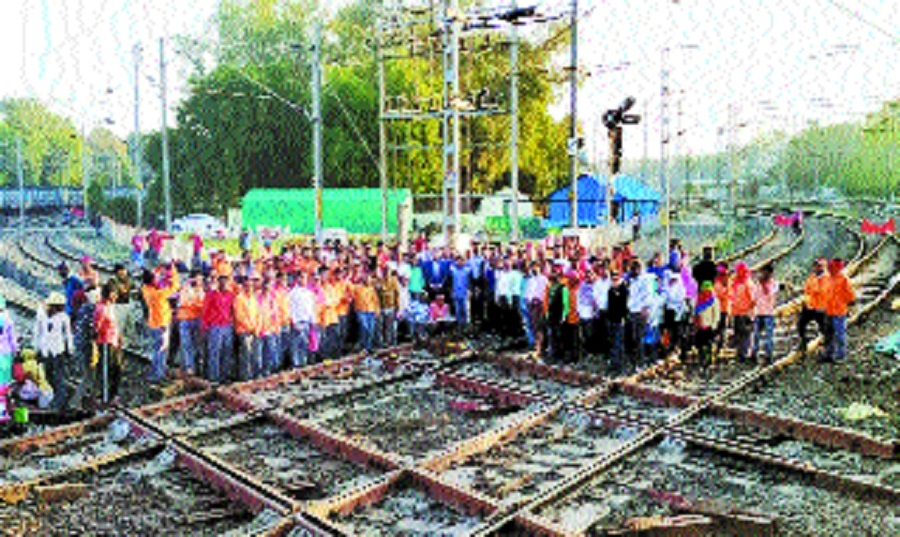 Staff Reporter :
Central Railway's Nagpur Division carried out special diamond crossing renewal at Nagpur Yard. The improved design would facilitate safer movement of trains through diamond crossing. A specialty of diamond crossing in Nagpur Yard is its tag line, Here India crosses, in sense it is where criss-cross movement of trains, from East to West and North to South takes place. These are two diagonal scissors shaped criss crosses in the yard and is unique to Nagpur's identity on Indian Railway map. As per railway officials, the improved diamond crossing was fabricated at CR's Manmad Workshop.
It is now fitted with galvanised bearing plates having higher thickness, prefabricated check rails with web fit blocks, etc. For this work, two traffic blocks of 5:15 hours were taken on January 9 and 10 and 4 nos of diamond crossing no 10 &11 and diamond crossing no 09 and 12 were replaced.
The work was carried out smoothly by various departments of railways with meticulous planning and synchronised execution by all the concerned branches of division. Explaining the rationale of work, Pankaj Dhawre, Sr. Divisional Engineer, Central, Central Railway, Nagpur Division, talking to The Hitavada said due to corrosion the earlier fittings needed to be replaced. But while carrying out changes one thing that was kept in mind was that new material should have higher utility, shelf life and resistant to corrosion. Now that traffic of trains has increased the new design saw increasing thickness of plates, nearly 16 of them that are placed under four diamonds shaped rail.
While fabricating them at Manmad workshop its base was widened to lessen the impact of rail during criss cross movement thereby reducing the friction rate and increasing its bearing strength. Similarly the check rail are now made from stronger rail section to increase its life under stressful conditions. Due to droppings from the passing rail overhead the area is highly vulnerable and hence new fittings include thick screws and galvanised covering would ensure that they lasts long.