Though an engineering marvel, Residency fly-over design fault puts commuters in spot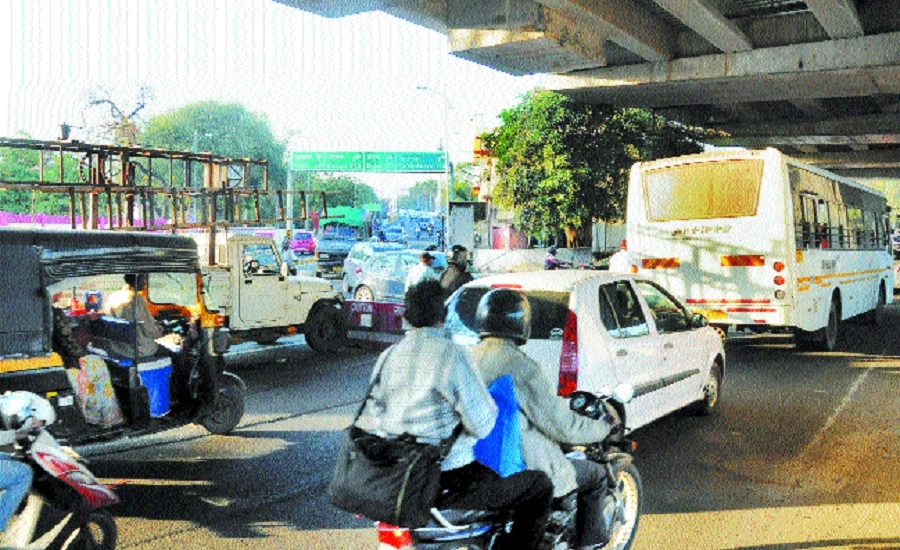 By Sagar Mohod :
Utility of Residency fly-over has got over shadowed by a design fault that ended-up putting Nagpurians in yet another tight spot. One does not know whether the error in design of landing on Kasturchand Park side was intentional as it would need a deeper probe. Given the continuous bloopers in one development programme after another in city, citizens are left wondering if a game of cat and mouse is being played with them. First it was Kruplani Turning that tested the limits of endurance of Nagpurians. Before that Pardi development paradox, it continues to test the patience of citizens, as the project seems locked in status quo since last few years.
And just now as people were cheering a major development initiative aimed at correcting traffic flow, a problem arosed with landing of Residency Road fly-over at Kasturchand Park end. The slope stops just short of busy road patch of national highway stretch and problem is further compounded as it is overshadowed by imposing building of Reserve Bank of India (RBI). In short it has exposed users to terrible danger as vehicles are boxed into incoming traffic from either side of the road.
Even a lay person could have envisaged the problem as the landing straightway propels a vehicle onto main road that is busy throughout the day. So in short when there were not shortage of problems, the planners ended up creating one more for which no immediate solution seems to be in sight. While the fly-over is an engineering marvel no doubt, yet planners of National Highway Authority of India (NHAI) should have anticipated the problem and made suitable changes in its design. Now talk about putting a signal post at KP end sounds illogical as squares are located on either side of this new junction and it would further jam traffic on the barely 200 metres stretch.
Two busy junctions, one at LIC Square and other one at RBI Square already struggle to accommodate the ever growing road traffic. On top of that if further brakes are put on movement of vehicles, it would add to chaos on the already overstretched national highway passing through mid of the city. A simple solution could have been restricting entry from RBI side for one way movement of traffic. Secondly for vehicles coming from Sadar side the landing could have been provided at NIT junction with opening onto LIC Square.
This would have automatically separated movement of vehicles and avoid jamming the T point at Kasturchand Park end, said the design experts. Now after the fly-over is opened for traffic the inherent flaw in its design has surfaced giving another nightmarish experience for the commuters. So NHAI officials would go back to drawing board and think on resolving the problem to ensure there is ease of movement for which the fly-over is designed.
Citizens in for more traffic trouble Traffic Control Branch is again painted the villain as they barricaded the median gap in front of KP gate to avoid mishaps. However it has put users of fly-over in a spot as they now have to take a U-turn from LIC Square. The spot is already jammed with heavy traffic movement and now again this unnecessary stoppage has irked the regular commuters on the road. The vehicle coming onto KP end takes a left turn near MSEDCL sub-station and moves onto right side thereby putting impending in smooth flow of traffic on the highway. Another problem is created by coming from Residency Road are creating trouble by resorting to U-turn for movement onto VCA side. The cops need to block the U-turn from the fly-over as it puts vehicles on collision course. Those wanting to move on towards Liberty T-point should be directed to take left turn at KP end and then take left from LIC Square and ahead till Shri Ram Tower T-point.