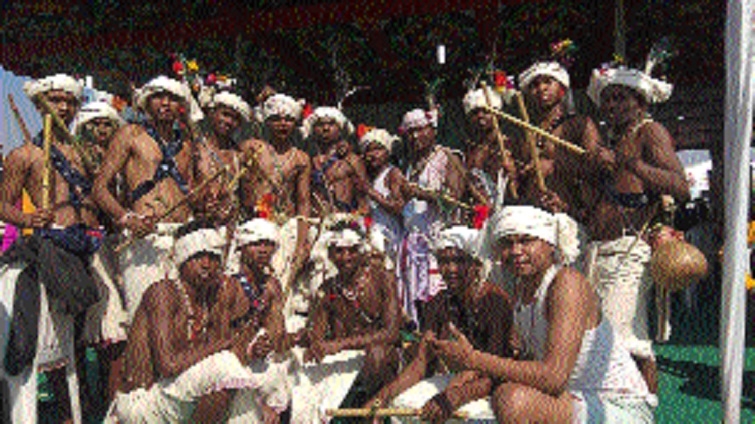 By Partha Sarathi Behera :
Raipur
A group of students from the villages of Darbha development block in Bastar district was quite excited to be a part of three-day State-level Youth Festival under way at Government Science College Ground of Raipur from January 12 to 14. The reason behind such excitement was the exposure they got through this festival and subsequently a golden opportunity to come out of the Naxal-hit Bastar and perform before a different audience in Raipur.
Dhaniram Nag, a young teacher and leader of the dance group, said that the entire group has gone through a difficult phase as they have witnessed sacrifice of their representatives in the form of their sarpanch, panch and patel. "They have laid down their lives, so that the next generation stay safe. We are here today because of them only," said Nag while lamenting that the higher education is still far for the students of Darbha and its adjoining villages. Students here have to travel 50 km to reach Jagdalpur for college studies, Nag said. He said that the Jhiram Ghati incident is still fresh in their mind.Another member Lalaram Nag, a resident of Kolenga village, said that there are around 1,500 people in his village.
Unfortunately, it took the State Government decades to supply electricity. "We just received supply of electricity. Till date we had been living in dark," said Lalaram. He said that migration has been a major issue. People from the region used to migrate to other state for better livelihood. Only development and employment of the region can stop migration, he said. He also said that Kolenga has lost its panch, sarpanch and patel and they all were killed by the Naxals. The fear of naxal has diminished after CRPF established its camp. Team manager Bijeshwari Poddar, who is a higher secondary school teacher, said that she has spent over 30 years in Darbha and education facilities in the region have improved.