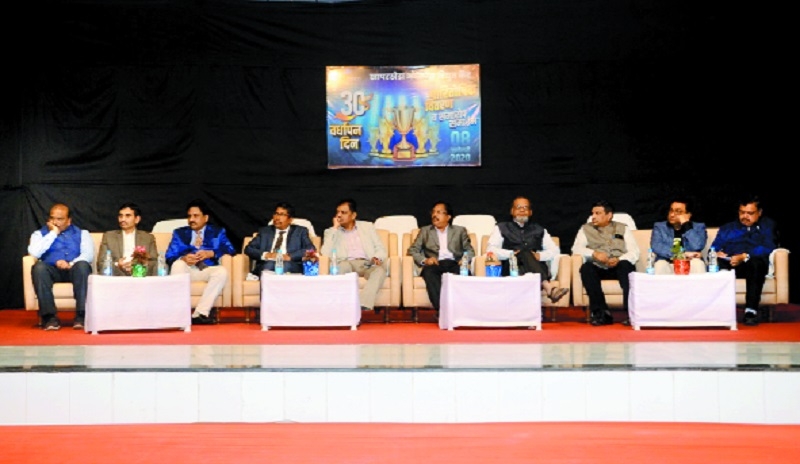 Business Bureau :
KHAPERKHEDA Thermal Power Station recently celebrated its 30th Foundation Day by organising various events like sports, cultural, entertainment and Anand Mela. The concluding programme was organised at Entertainment Hall -1, Khaperkheda. The chief guest on the occasion was Chandrakant Thopte, Director MAHAGENCO, also present were chief engineers Prakash Khandare, Dhairyadhar Khobragade, Rajkumar Taskar, Rajesh Patil, Dilip Dhakate, Deputy Chief Engineers Rajendra Raut, Sharad Bhagat, Sunil Sonpetkar and PRO Yeshwant Mohite. While addressing the gathering Thopte said, "I like to have dialogue with the employees, executives and their family members.
Due to dialogue new ideas come out. Even love and respect for each other, diligence in work and good planning among others benefits comes with interaction." He advised the employees to change according to the time in order to be more competitive. He expressed happiness over the working of plant. Dr Nitin Raut, Maharashtra Minister for Energy also extended his greetings and promised to visit the plant at the earliest. In his message Dr Raut suggested executives, engineers employees to come together to innovate new technology so that maximum production can be done at low cost.
A video of activities throughout the year was also displayed on the occasion. Khaperkheda Thermal Power Station apart from production of electricity has also won recognition on national and international levels. Other speakers also appreciated the work of the plant. Awards to the winners of various competitions were also given by the chief guest. Gyandeep Kokate conducted the valedictory programme while Amarjeet Godbole proposed the vote of thanks. Executive Engineer Parmanand Rangari, Dr Anil Kathole, Jitendra Tembhare, Sandeep Devgade, Ravindra Jhalke and all HoDs.