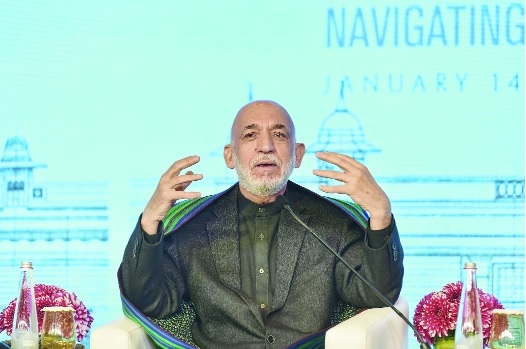 ASSERTING that the "unfortunate state" of the Indo-Pak relationship has impacted Afghanistan tremendously, former Afghan president Hamid Karzai on Thursday said maintaining a balance in ties with the two neighbours has been very difficult for his country. Karzai also said dialogue with the Taliban was the way forward in Afghanistan, asserting that, "it isn't our war. It is not our conflict, it is somebody else's conflict."
"Why should we be dying in it, why should the Taliban be used in the conflict against their own country why should we be used in this conflict against our own country and people. It's not Afghans fighting Afghans, it's Afghans being put against other Afghans and that is what we should end," he said at a session of the Raisina Dialogue here.On the presence of US troops, Karzai said an overwhelming majority of people would agree with an American presence in Afghanistan provided the country becomes peaceful and the Afghan people are given the opportunity to live in a dignified way, their politics and institutions are not interfered with, and their sovereignty is not hurt.
If these conditions are met, the US may be given the right to stay, but that decision has to be made by the Afghan people through the institutions in place, he said. Asked about ties with Pakistan, Karzai said the country's impact on Afghanistan is a "lot greater" than any other nation and Kabul must convey to Islamabad that close ties with New Delhi will not impact their relationship. "India is the greatest friend of Afghanistan. India has been a tremendous contributor to Afghanistan, but the impact that Pakistan can make in Afghanistan, is a lot greater than any other country," the former Afghan president asserted.
He said the "unfortunate state of relationship" between India and Pakistan has impacted Afghanistan tremendously. "We did try to balance it, but the balancing was very very difficult," Karzai added. Pakistan and Iran are the most important and most consequential neighbours of Afghanistan, and this can impact "us deeply" with or without US presence, he said.