Colonel P Hani, Sena Medal, who is posted as the Head of the Computer Systems Department at Military College, Secunderabad was awarded by Prime Minister Narendra Modi on the occasion of Army Day 2020 for his
outstanding contribution in the field of innovation and scientific temper.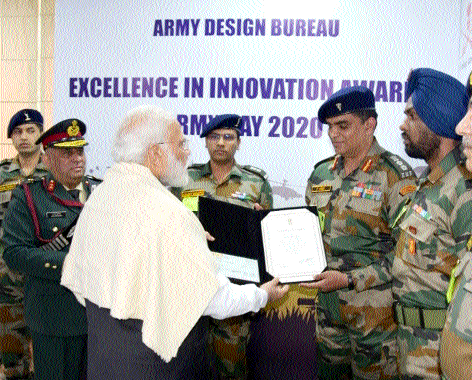 Colonel P Hani receiving the award from Prime Minister Narendra Modi on the occasion of Army Day 2020.
The officer had made a Artificial Intelligence based solution which can find out the defects of battle tank engines in advance and automatically suggests the prescriptive maintenance which ensures that there is lot of savings to the government as faulty components can be repaired or replaced well in time.
Here it may be mentioned that the awards are given to officers who can come up with practical solutions to complex day-to-day problems in the army in an innovative manner and the solutions can then be taken up for implementation and production under the Make in India initiative.
It needs a special mention here that Colonel P Hani, hails from Bhilai and has completed his schooling from Bhilai Steel Plant (BSP) Senior Secondary School, Sector-10 Bhilai in 1990. His father S Prabhakaran Nair was a BSP Executive and wife Suprabha Hani is also from Bhilai.